Planning to set up an e-commerce website on Magento? With Magento, you can set up an e-commerce website that is fully customizable, SEO optimized, and developer-friendly. In addition, you'll also require Magento hosting providers. I'll recommend you to go with a hosting plan with a dedicated IP address, CDN, and SSL certificate.
You can run your Magento online store either on a shared hosting, a VPS, or a dedicated server. It solely depends on the size & complexity of your e-commerce website which hosting plan should be the right choice for you.
In this article, I'll walk you through some of the best Magento hosting providers for 2020 that can help you build your dream online store.
Top-Rated Magento Hosting Providers
Let's explore the features and plans of top-rated Magento hosting providers:
1. A2 Hosting
Looking for a faster Magento Web Hosting plan? Go for A2 Hosting services. They offer website hosting plans along with free site transfers to make your work more easier than ever. Whether you require for shared hosting, Reseller hosting, VPS hosting or a Dedicated Server, A2 Hosting has got you covered. 1-click setup caching solutions and other optimization solutions makes it the first choice for choosing Magento Hosting Providers.
Key features include
99.9% Uptime Commitment
24/7/365 Guru Crew Support team
Money-Back Guarantee
A2 Optimized with auto-configuration
Screaming fast SwiftServer platform
Free HackScan Protection
KernelCare Rebootless kernel updates, brute force defense, dual firewall, and more security features.
2. Cloudways
Cloudways is another one of the best Magento Hosting Providers who offer fast Magento web hosting services. More than 3500 Magento Store Owners are taking advantage of their high-quality web hosting plan. The server deployment is quick & easy and they offer advanced-cache technologies and optimized Magento web hosting servers. In case of any technical problem regarding web hosting for Magento, take help 24/7/365 from the Magento expert team.
Key features include:
SSD-Based Magento Cloud Hosting
Advanced Cache & Optimized Stack
PHP 7 Ready Servers
Robust CloudwaysCDN
Free Magento Full Page Cache
3. Inmotion Hosting
With 24/7 customer support, Inmotion hosting offers its customers an amazing web hosting experience to get started with their dream online store. They are 16-Year CNET certified, hence, your website transactions are safe and secure. They offer server solutions for businesses, freelancers, agencies and also for resellers. Better Business Bureau has given A+ rating for their work.
Key features include
FREE SSD & Monthly Premium Transfer
Fault Tolerant Disk Space & Dedicated IP Addresses
FREE Automated Data Backups
Max Speed Zones
Quality Dell Servers
SPAM Safe Email Accounts
MySQL Database Support
And, many more!
4. SiteGround
SiteGround offers amazing web hosting services for Magento along with great user experience. You can enjoy a fast web hosting experience with its free Cloudflare CDN with Railgun. Server-level security patches, Custom in-house hack protection, Git integration for easy Magento version control, and Free Magento 2 Installation makes it a good choice for Magento Hosting Providers.
Key features include:
Domain Name Registration and Free Magento 2 Install
SSD drives for all plans
Site Transfer Assistance
Free Daily Backup and CDN with Railgun
Magento Optimized Server
24/7 Help via Phone/Chat/Ticket
5. GreenGeeks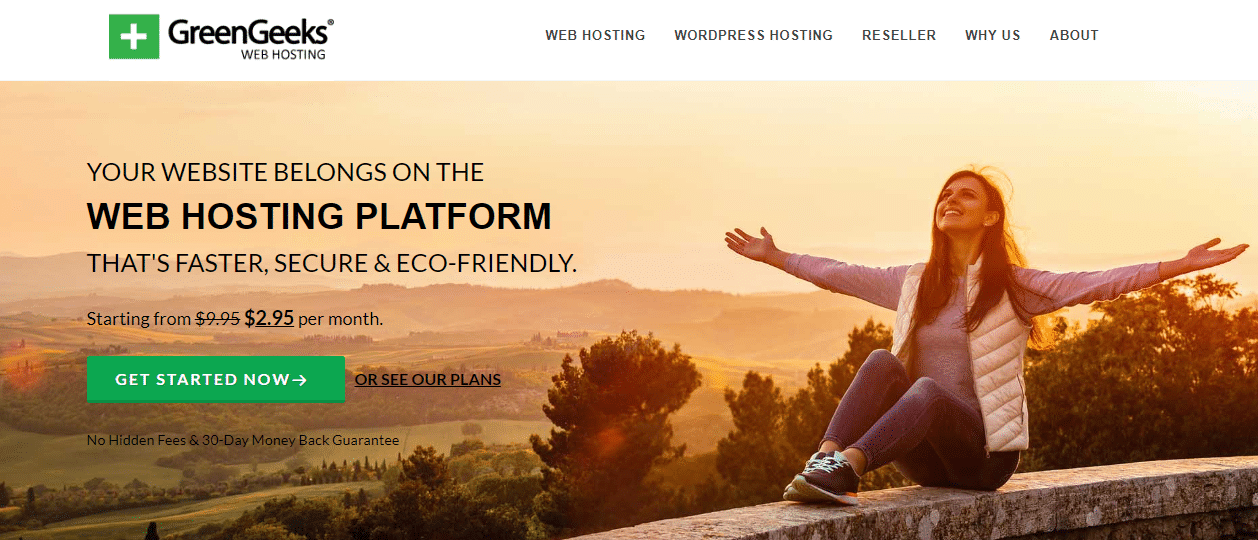 Get a fast, secure, and eco-friendly Magento web hosting plan from GreenGeeks. They have three kinds of web hosting package for you— Lite, Pro and Medium. Choose the best that fits your needs. Their Data Centers are located in Phoenix, Chicago, Toronto, Montreal and Amsterdam. Hence, it's up to you which one you would like to choose for your website hosting. Scalable Computing Resources makes task a lot easier and efficient.
Key features include:
1-Click Magento Installation
Easy maintenance with automatic updates
24 Hours Automatic Backups
Advanced Security
Top-Tier Performance with PHP7, SSD, CDN & more
24 / 7 Expert Support
6. Kamatera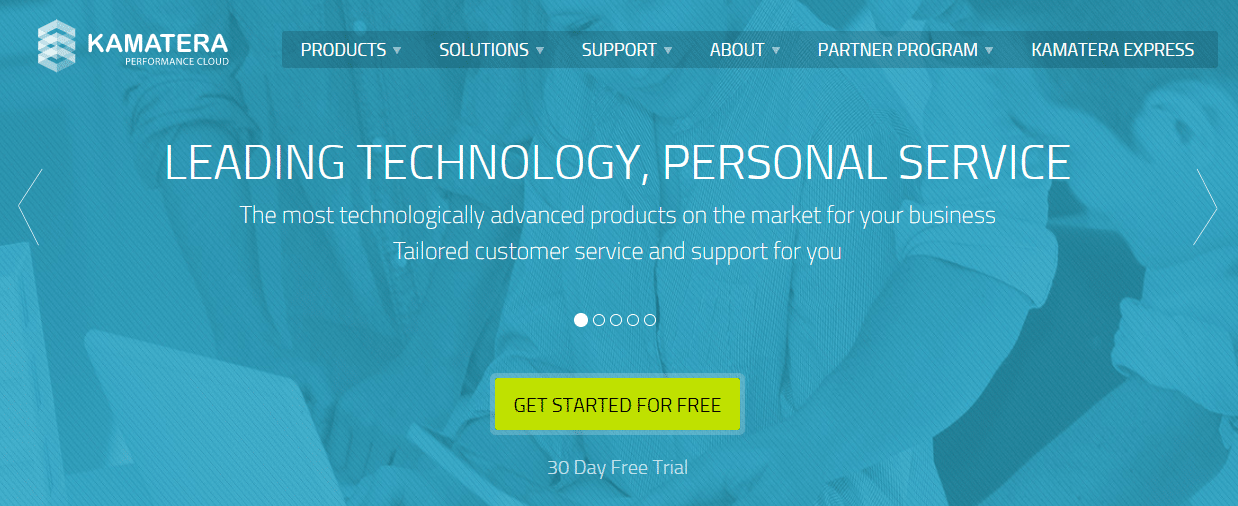 Take a look at Kamatera— a leading global cloud services platform provider. Currently, it is operating in 13 global data centers that serve all types of clients including start-ups, international enterprises, application developers, and SaaS providers. High-Performance Servers and 24 x 7 live technical support makes it more reliable and secure.
Key features include:
Flexible, cost-effective cloud servers
Private VLAN interface connected to the cloud
Advanced Cloud Firewall
Cheap and Reliable Cloud Block Storage
Balance your network with Cloud Load Balancer
Managed Cloud
7. Hypernode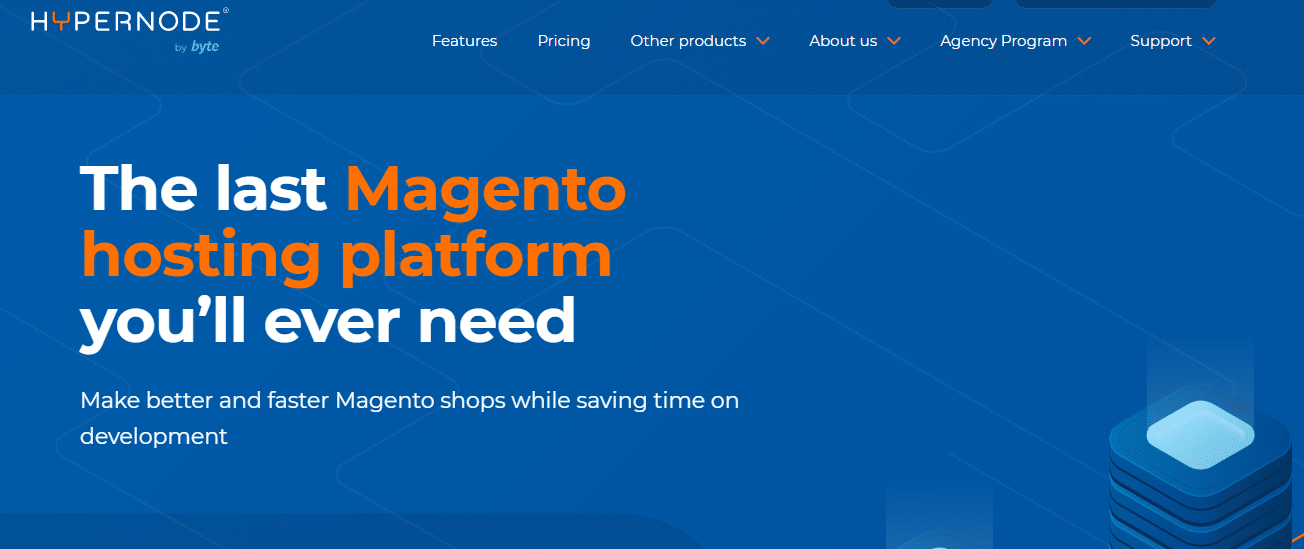 Experience a better Magento cloud hosting with the market leader of Magento— Hypernode. They offer a managed cloud platform for businesses that want to set up their e-commerce store. To explore their cloud hosting experience, you can take a 14-day free Magento hosting trial.
Key features include:
SSD based hosting
Redis & Varnish Cache support
PHP 7.2 ready
Sphinx & HTTP/2 support
Advanced software stack
CDN compatible
Pro-active resource notification
Elasticsearch built-in support
Optimized cloud node booting
And, many more!
8. Elastycloud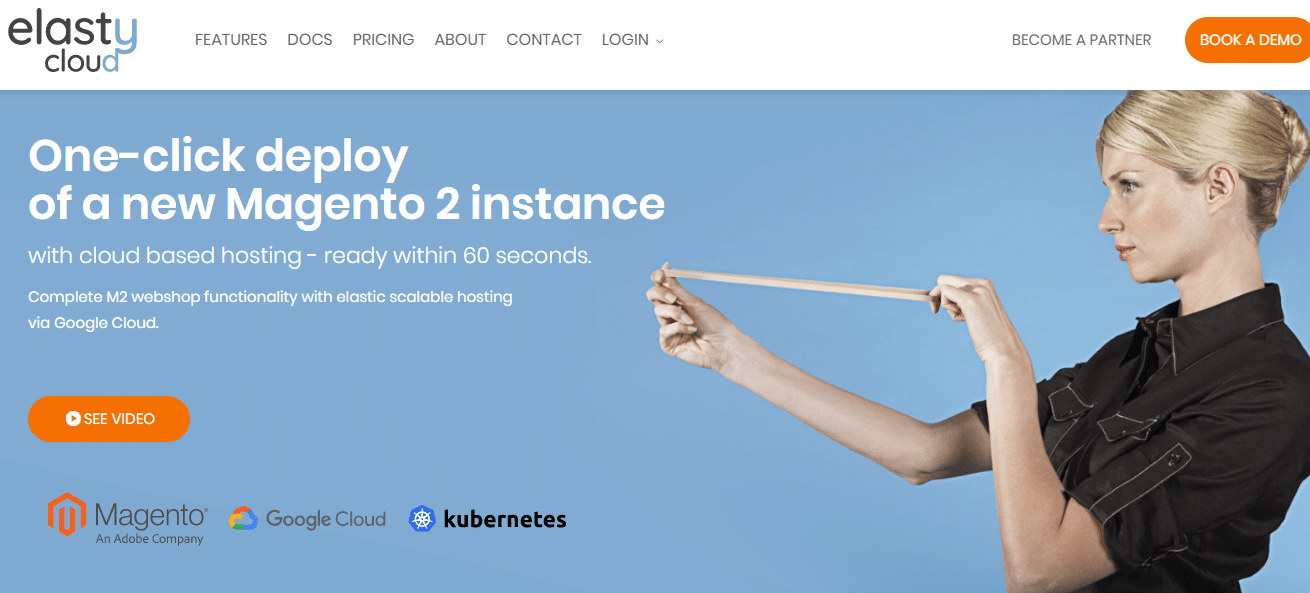 EalstyCloud offers cloud-based hosting. You'll get 1-click M2 deployment within 60 seconds. It offers all the services that are required for Magento 2webshop, including a shared file system, SQL proxy and more. You just pay for CPU and bandwidth while hosting is managed and maintained by Elastycloud itself.
Key features include
Elastic M2 server environment (CPU, Memory & Traffic) with autoscaling
At least two servers operating all the time
Full toolbox for development, building and debugging
Google image service
Free SSL certificates
Google Premium Tier Network
Support / Error reporting
And, many more!
9. Platform.sh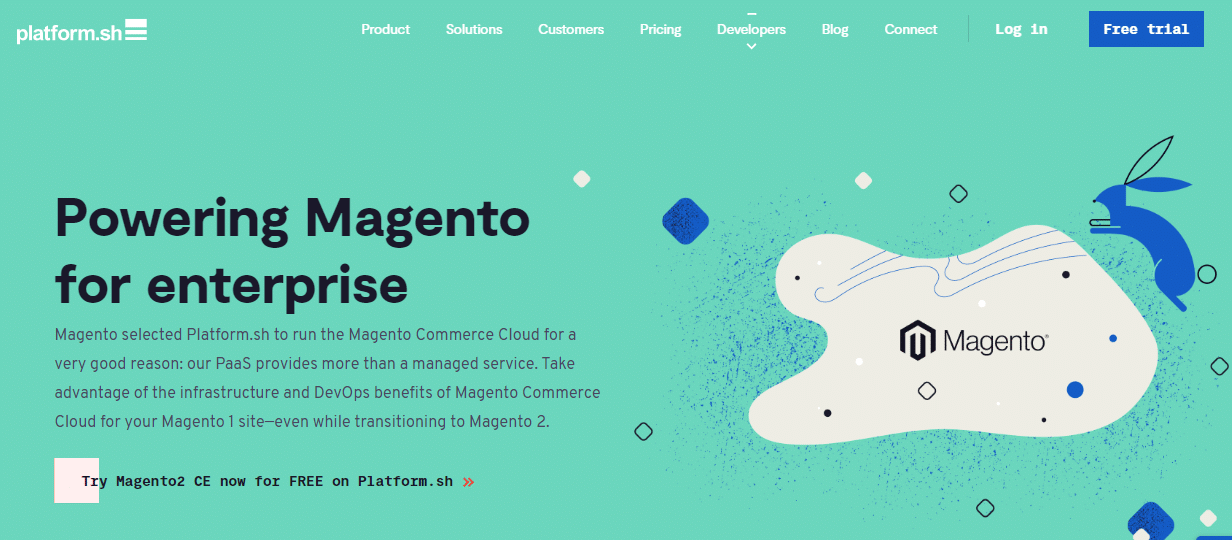 Another best hosting provider for Magento that you can consider is Platform.sh or call it a Magento-specific platform-as-a-service. High-performance and replicable delivery makes it easy to manage your Magento e-commerce store. You can run your website as a full-stack or headless commerce application, alongside Angular, Node.js, React, or other front ends.
Key features include
Git-driven workflow and built-in managed services
Test and launch every campaign flawlessly
Zero-downtime scalability
Multicloud global deployment
24×7 Enterprise support
Everything runs on high-IOPs SSDs
10. Krystal Hosting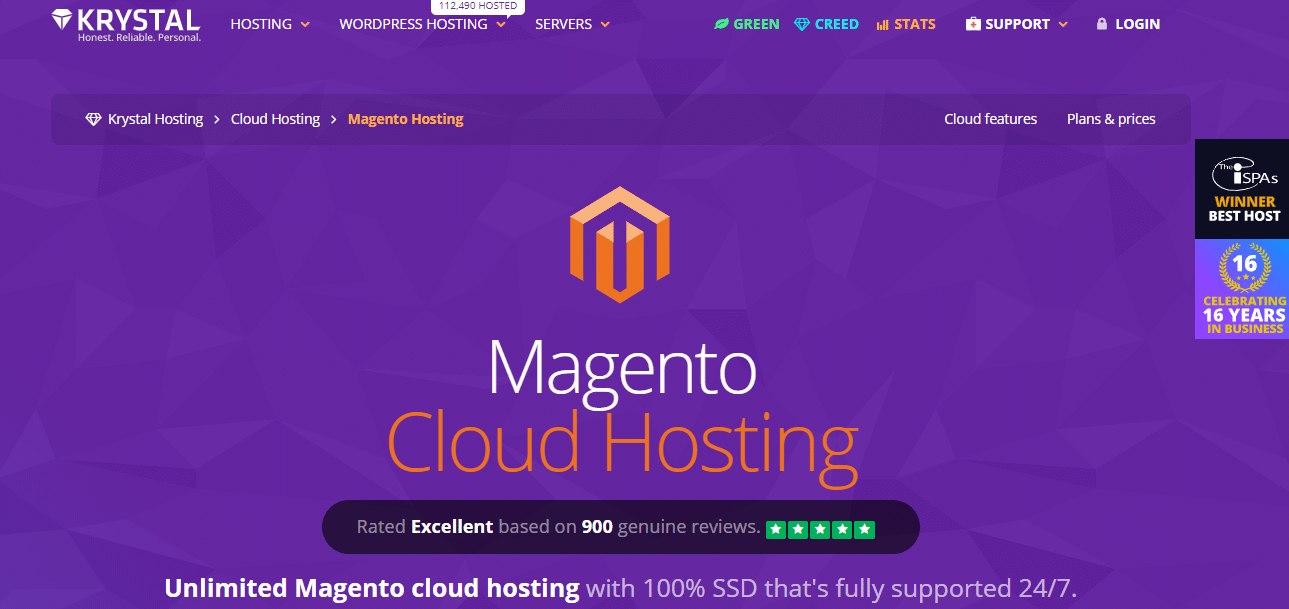 If you are in search of unlimited and optimized cloud hosting for Magento with 100% SSD, take a look at Krystal. With round-the-clock support, you can take advantage of many great features offered by it. 60 days money-back guarantee makes it more reliable for Magento owners.
Key features include
LiteSpeed Caching + SSD disks
Magento hosting with a FREE SSL
All Managed cloud hosting packages include free weekly/monthly backups
Hosting platform is 100% fully managed by dedicated UK support team
Blazingly fast servers & UK datacentres
Secure File Management
MySQL/MariaDB databases & phpMyAdmin Management
200+ web apps
And, many more.
11. MilesWeb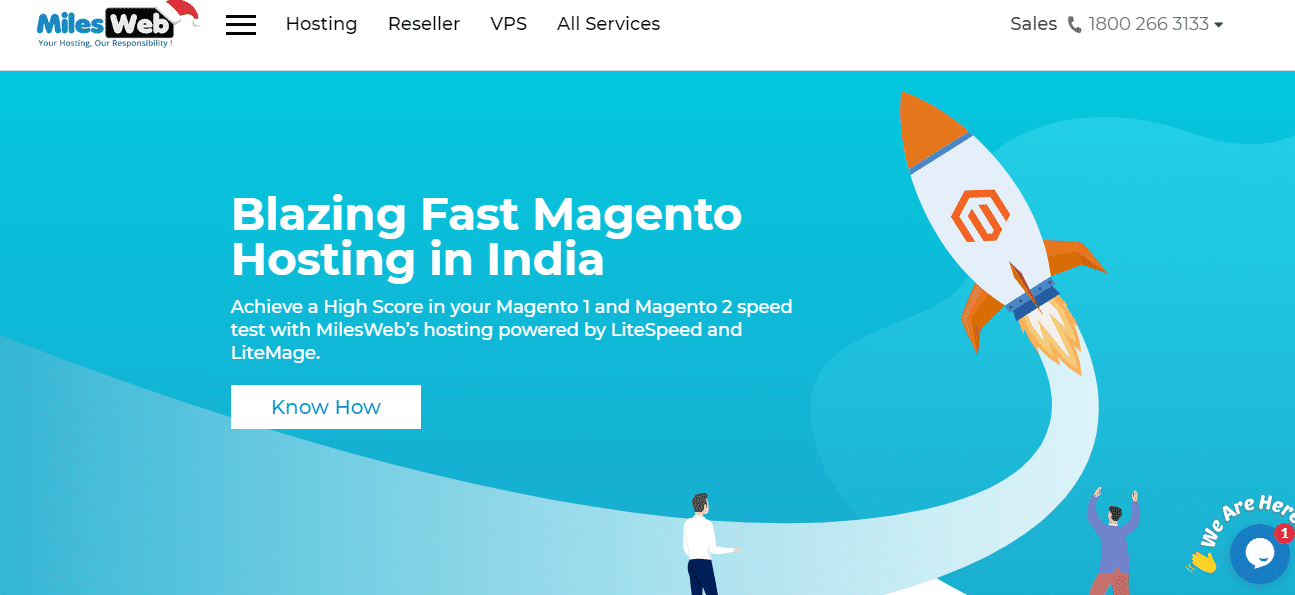 MilesWeb's hosting is powered by LiteSpeed and LiteMage and offers a fast web hosting service for Magento websites. LiteMage offers a tag-based cache management system to ensure your Magento web pages will work without any interruption. Static + Dynamic Caching, Low CPU and Memory Needs, Quick Page Loads, Native Site Crawling & SSL Support, DDoS Protection, and  Multiple View and Ajax Support makes it a good choice.
Key features include
Redis Backend & Session Cache
Optimized Server
CloudFlare CDN + Railgun
Free Magento Installation
Support of Magento Consultancy
12. FastComet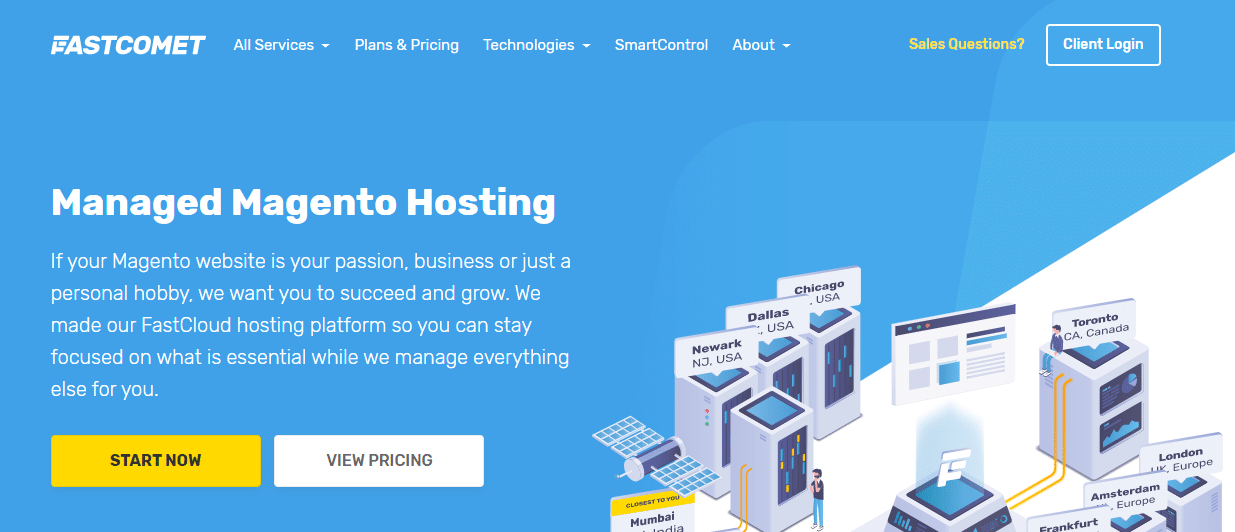 FastComet offers managed web hosting services for Magento. Out-of-the-box optimization and unlimited features help you set up your Magento powered online store easily. All Servers are protected by FastGuard Magento Security. Varnish Cachewall, SSL support, and LiteSpeed LSPHP Technology make it more reliable.
Key features include:
RocketBooster Magento Optimization
Free Domain Transfer &Cloudflare CDN
SSD-Only Cloud
Powered by cPanel
Daily and Weekly Backups
Free 24/7 Priority Support
Free Managed Migrations
100% Satisfaction or Money Back Guarantee
Account and Website Monitoring
Daily Optimization Reports
13. Client Server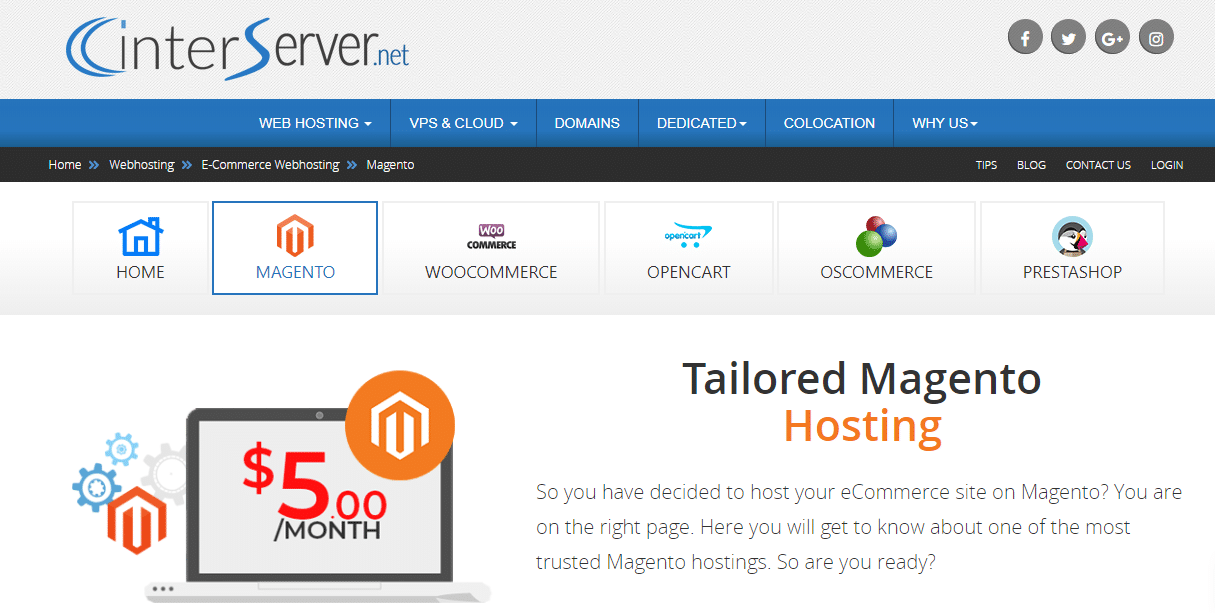 At Client Server, you'll get one of the most trusted and standard Magento hostings. With unlimited storage, websites, transfers, and email, you can manage your Magento site more efficiently. It offers super fast and secure hosting service. Moreover, it also offers Multiple PHP Version, Dedicated Firewalls, free themes, and plugins.
Key features include
Dedicated cloud-based
Free SSL Certificate
Lightning Fast SSD Drive
Business Email and cPanel
Automatic Backup
Frequent Updates
Auto Scaling of bandwidth according to the traffic
Free Migration
14. RoseHosting
Now take a look at another Magento hosting provider— RoseHosting that offers managed Magento hosting services. Managed Magento hosting plans offered by RoseHosting include free full weekly backups, Magento Optimization, Magento Migration, Magento Maintenance & Managed Support, Full Root Access and many more.
Key features include
Magento Optimization and Fine-Tuning
SSL Certificates
99.99% Uptime Guarantee
Enterprise SSD Storage
24×7 EPIC Support
Optimized Magento demo
15. Web Hosting Hub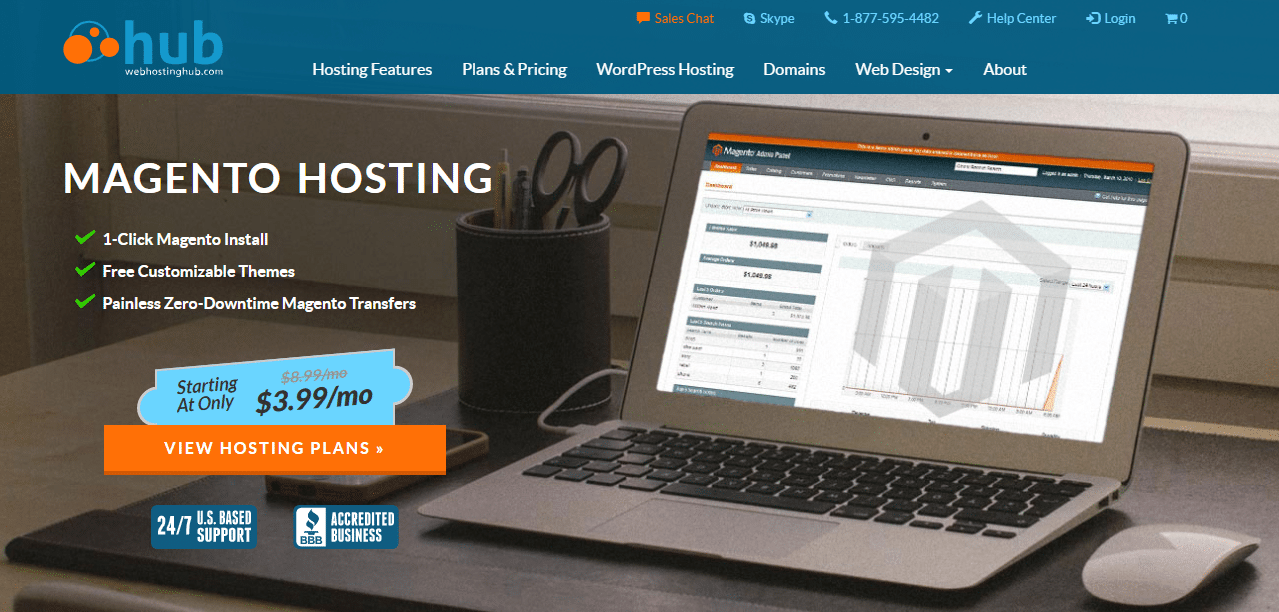 Web Hosting Hub offers quality Magento hosting solution that helps businesses easily set up their online store. Take advantage of their reliable and scalable shared hosting plans that match every hosting need. Even you can also customize your website easily using free Magento themes and amazing extensions and widgets.
Key features include
Thousands of Magento themes
Amazing Magento Extensions and Widgets
1-Click Magento Install
Zero-Downtime Magento Transfers
24/7 U.S. based technical support
16. Nexcess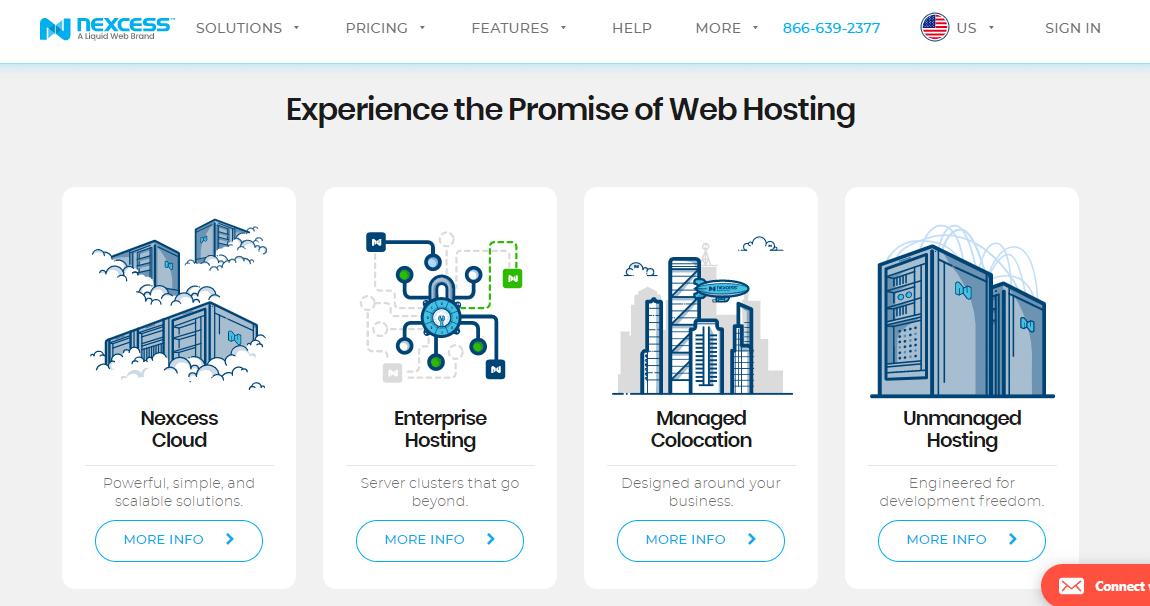 Try Nexcess Magento Web Hosting services! With flexible upgrades and affordable pricing allows you to get your business online easily. The advanced user control will assist you in optimizing your development flow. It offers a hassle-free approach to start new Magento Stores with just 1 click. Magento managed clusters, Magento shared & dedicated servers and stable & secure Magento hosting offer amazing e-commerce experience.
Key features include
Auto scaling and instant upgrades
Near-instant asset caching
Server-side scripting
1-click cloud acceleration
1-click container add-ons
4/7 US-based support team
PCI Compliance
Automated backup
17. MageMojo
MageMojo offers optimized Magento hosting using modern technologies in order to correctly run your Magento store. 15 Minute Support SLA, Pay Per Use Pricing, and Horizontal Autoscaling makes it different from others. Choose from autoscaling plans or fixed resources plans, whatever suits your business the most.
Key features include
Amazon Autoscaling
Premium Cloudfront CDN
Rock-solid Security
PCI Compliance
Optimized stack includes CentOS, Nginx, PHP-FPM, Redis, Varnish, ElasticCache, Docker and Saltstack
24×7 System Management
Developer-friendly CLI and Control Panel
18. Sonassi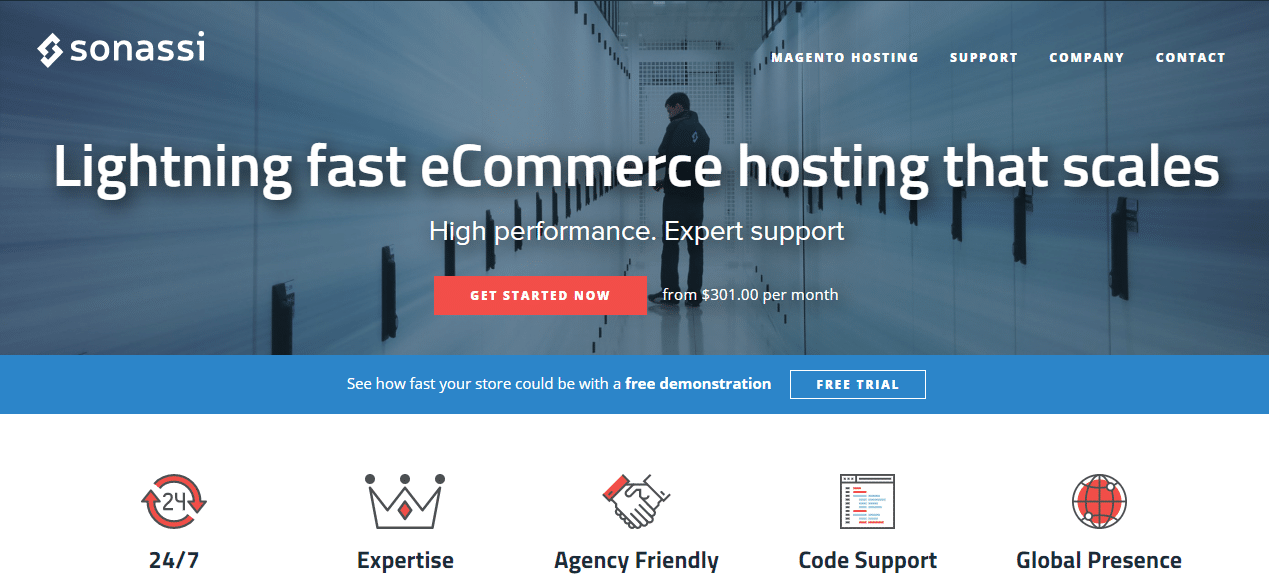 Sonassi uses the highest quality and server-grade hardware to build servers. It offers fast and reliable Magento web hosting backed by 99.95% SLA. All solutions offered by Sonassi run on MageStack operating system that has been solely made for eCommerce websites.
Key features include
Local & offsite
MageStack Operating System
PCI Compliant
Root SSH access
Extensive firewalling, DOS filtering, two factor auth. & intrusion prevention
24/7 Emergency server and code support
Managed on-site & off-site backups
Free SMS/Email site monitoring
4 hour hardware replacement
19. AlphaHosting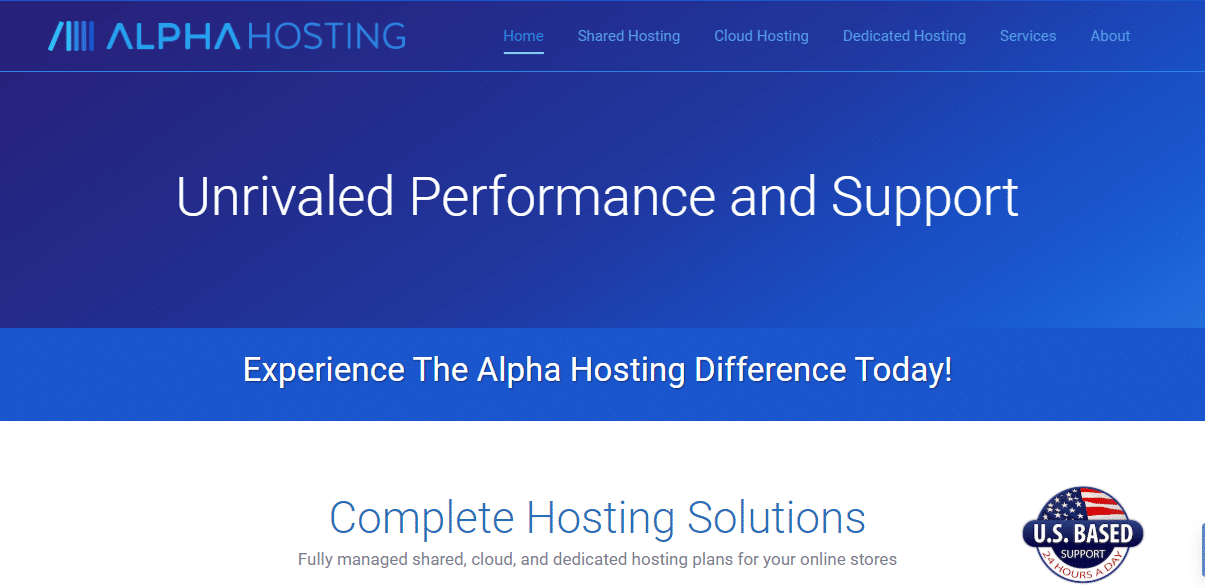 Drive your business growth and conversions with Managed Magento hosting plans offered by AlphaHosting. They provide a range of web hosting solutions that fit your online business requirements. The hosting solutions include 12 Core CPU support, robust memory resources, disk space, and premium bandwidth.
Key features include
eCommerce App Expertise
Innovative and Superior Technology
24/7 Exceptional Technical Support
99.999% Uptime Guarantee
Fast & Reliable Network
Firewall and load balancing
Optimized for eCommerce
Data security & control
20. JetRails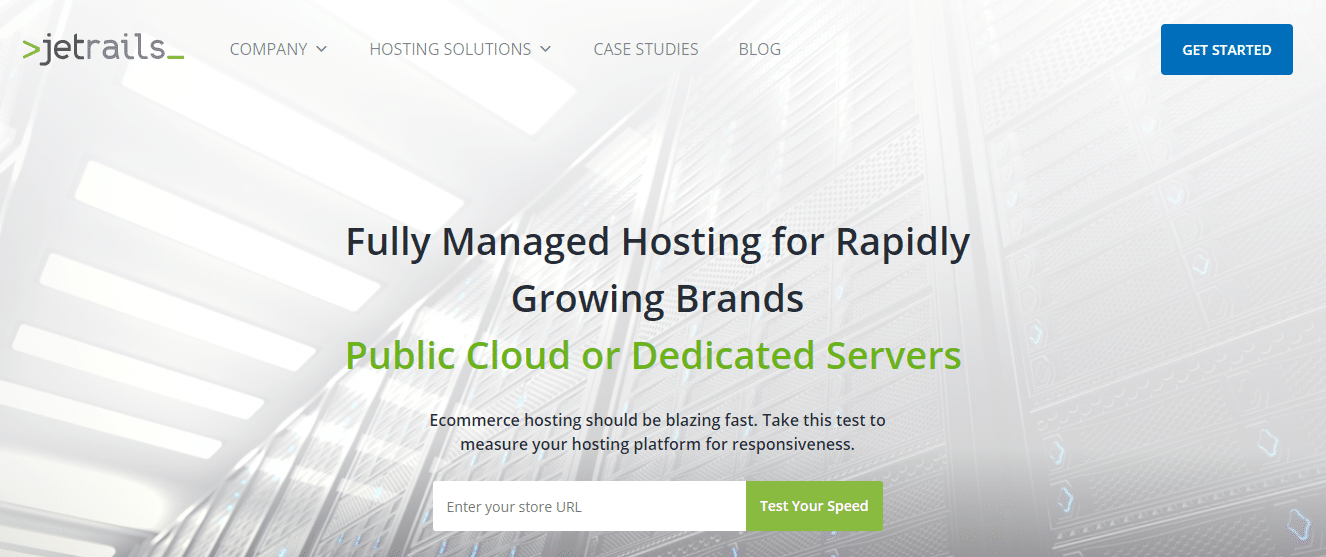 JetRails offers a fully-managed eCommerce deployment for Magento and other e-commerce solutions in the AWS Cloud and on dedicated servers. It ensures your store to be fast and secure using the latest technologies. It has a Magento-optimized dedicated server which, no doubt, is a low-cost solution available today.
Key features include
Fully Managed Bare-Metal Dedicated Servers
Frequent Security Updates
Automated countermeasures
Adaptive firewalls, intrusion detection, malware scanning, in-flight encryption
More SSD storage for wear- leveling
Advanced Cluster deployments
21. MageHost
MageHost is another one of the best Magento hosting providers that offer reliable, fast and secure premium eCommerce Hosting. It ensures the fastest page load times for your online store to reduce your cart abandonment.
Key features include
Built-in caching and global CDN
Server-side firewalls and web-application firewalls security
No downtime
Unlimited Free SSL Certificates with auto-renewal
Sucuri Firewall and CDN worth $200/year for one domain
Daily backups with a 7-day retention period.
Global CDN with unlimited bandwidth by Cloudflare/Sucuri
Words Over To You
Choosing the right Magento hosting providers can be a little bit confusing. Keep in mind your needs and requirements, do a comparative analysis of all the Magento service providers and then select the best one for your business.
Still, facing problems finding the best Magento service providers for your business? Contact our Magento experts now!