A great enterprise e-commerce experience comes with a highly functional and powerful e-commerce platform. It should be such that it can offer an amazing shopping experience to the customers and high e-commerce experience to the business. Just launching an e-commerce website without proper store and product management can't help you reap the fruits of success. Instead, your efforts could go in vain.
Obviously, you wouldn't like it to happen to your business!
Therefore, your business requires such an e-commerce platform where you can manage your store, customers, products efficiently. And, no doubt, there are many e-commerce platforms that you can go with!
In this article, I'm reviewing the Magento e-commerce platform and will tell you everything about it, how it works, how it is helpful for businesses, and more. It'll help you a lot to get acquainted with it so that you can make the right decision for your business.
Magento E-commerce Platform
Magento is an open-source e-commerce platform that allows businesses to launch their e-commerce store with powerful store & product management functionalities. It brings amazing marketing, search engine optimization, and catalog-management tools for store owners. Using a variety of Magento plugins and themes, you can extend your store to enhance customers' shopping experience as well as digital retail experience.
The list of Magento features is endless. Some important features that it offers include SEO, marketing and promotions, store, order, catalog & product management, catalog & product browsing, checkout, payment, and shipping, mobile commerce, customer service, gift registries, store credits, and a lot more.
Magento Open-source & Magento Commerce
It's a little bit confusing for a layman. But you should understand the difference between the two.
Magento Opensource
Formerly, Magento Opensource is known as Magento Community. It is the free version that you can download, customize, and self-host.
Magento Commerce
It is a premium version of Magento that is the result of the combination of Magento Enterprise and Magento Enterprise Cloud. It offers amazing marketing features, targeted promotions, customer reward programs, and 24/7 customer support
Cost of Setting Up Magento Store
Magento Open Source is free to download and customize according to each business's needs. Still, you need to pay for web hosting, domain names, Magento add-ons, an SSL certificate, and payment gateways. The cost also involves hiring a developer as well if you don't have experience in coding.
There are many factors that need to be kept in mind while determining the cost of setting up an e-commerce store based on Magento. It could be your business size, the complexity of your website design, and so on.
If you want to set up a Magento e-commerce store for your business, you can schedule your call with our qualified Magento experts. We need to analyze your project to give you an idea of an accurate cost.
Talk with our Magento Developers here.
Magento 2.3.3: Latest Release
The latest version of the Magento e-commerce platform is Magento 2.3.3. It is officially released on October 8th, 2019.
This latest release of Magento brings essential updates in editions and important changes in the platform, security, and payment methods. It has come up with over 170 functional fixes to the core platform and over 75 security enhancements. In this latest version, Magento approved and implemented over 200 contributions including improvements in Inventory Management and GraphQL and minor core code fixes.
You can find release notes below:
Let's explore amazing features of Magento 2.3.3
Features Of Magento 2.3.3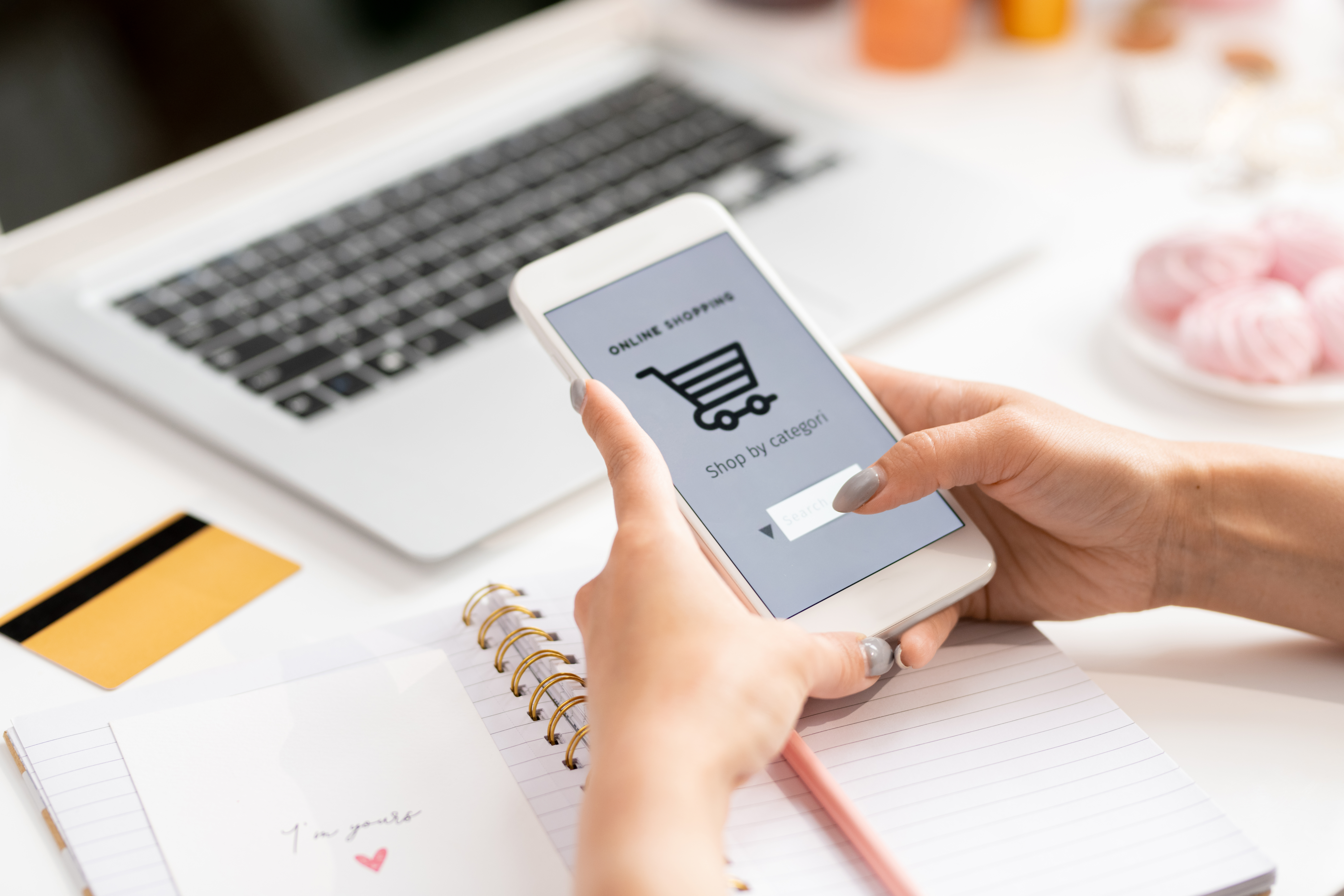 Magento is the most reliable e-commerce platform in the market these days. Constant bug and error fixes along with regular updates make it more advanced in the digital world.
Let's take a look at the features of Magento's latest version 2.3.3 to explore it more.
Security Enhancements
The latest version of Magento brings more security for e-commerce store owners. Approx 75 security issues have been resolved and it also ensures PSD2 compliance with core payment methods. The security improvements have also boost cross-site scripting protection.
Platform Upgrades
The Magento core enhancements include WYSIWYG editor which is updated to TinyMCE v. 4.9.5​. Magento now supports PCI compliance, PHP 7.3.x and PHP 7.2.x, and Varnish 6.2.0. Besides, Zend Framework 2 components have also been upgraded to the LTS version.
Performance Boost
Now, Magento 2.3.3 offers optimized Page load speeds. Site owners can turn off the automatic URL rewrite Generation.
Merchant tool enhancements
The site owner can now track user experience and events to improve product design and admin user experience. These events include save actions, page views and changes to Magento mode.
GraphQL Support
GraphQL is basically a Facebook query language that allows the advanced internet app to move data from the Magento shop through smaller data packets. You can request and create lower API requests whenever you need it.
The latest version of Magento supports GraphQL that offers many benefits for store owners like:
It's become easier to integrate the programming languages of distinct types.
Promotes information read requests and writing
Provides one-endpoint (URL) facilities.
Google Shopping Ads Channel
With the integration of Google Shopping Ads Channel extension in the core code of Magento latest version, you can now manage the smart shopping campaigns easily that helps you reach out to more potential customers.
Magento Shipping
The shipping enhancements in Magento include:
Improvements to batch-order processing, carrier integration, shipping method preview, and checkout.
Prepackage option and support for bundled products.
Vendor-developed extension enhancements
Magento 2.3.3 has fixed over 100 issues in the core code. Along with that many third-party vendors have also developed and upgraded Magento extensions that offer support for the latest Magento version. In addition:
There is an integration of Yotpo with Magento admin.
PSD2 directive compliance of Amazon Pay for UK and Germany
Dotdigital has improved product catalog sync for custom and bundled products.
Klarna now offers many useful options like disable sending customer details, integration with PayBright, a Canadian payment method and support B2B transactions.
Progressive Web App (PWA)
Progressive Web Apps use modern web technologies and design patterns that, in turn, provide a reliable and engaging user experience. They are fast, secure, responsive, and cross-browser compatible and are able to work offline.
And, the latest version of Magento has come up with the PWA Studio project that allows Magento developers for the development, deployment, and maintenance of a PWA storefront.
Declarative DB Schema
The declarative DB Schema simplifies the Magento installation and upgrade processes.
Previously, Magento developers write scripts for installing and updating the schema, data and invoking other operations. They had to understand what each install and upgrade script contained.
But with the declarative schema approach, developers can declare the final desired state of the database and has the system adjust to it automatically, without performing redundant operations. They are no longer forced to write scripts for each new version.
Bulk & Asynchronous Web API
It allows you to operate various API queries simultaneously. It simply means that integrations will not have to wait until calls are finished. It is useful for all those websites who have large API demands.
Elastic Search
The latest Magento version now supports the "Elastic Search" search engine that can operate on any server and allows Magento to search the site by facet.
Multi-Source Inventory (MSI)
It allows you to manage inventory from various sources. It is useful for all those who store products in separate stores online. Besides, it has a fresh table structure in the database that lets store owners book inventory.
Cache Management ACL
The distinct cache types in Magento can reduce the efficiency of the system.
Magento 2.3.3 has come up with cache management ACL that allows the site owner to use the Magento background role permissions. The site admin can now limit behavior and access to cache kinds for customers or user roles. In this way, you can restrict the access of a particular user to use the system cache.
Should You Choose Magento E-commerce Platform For Your Business?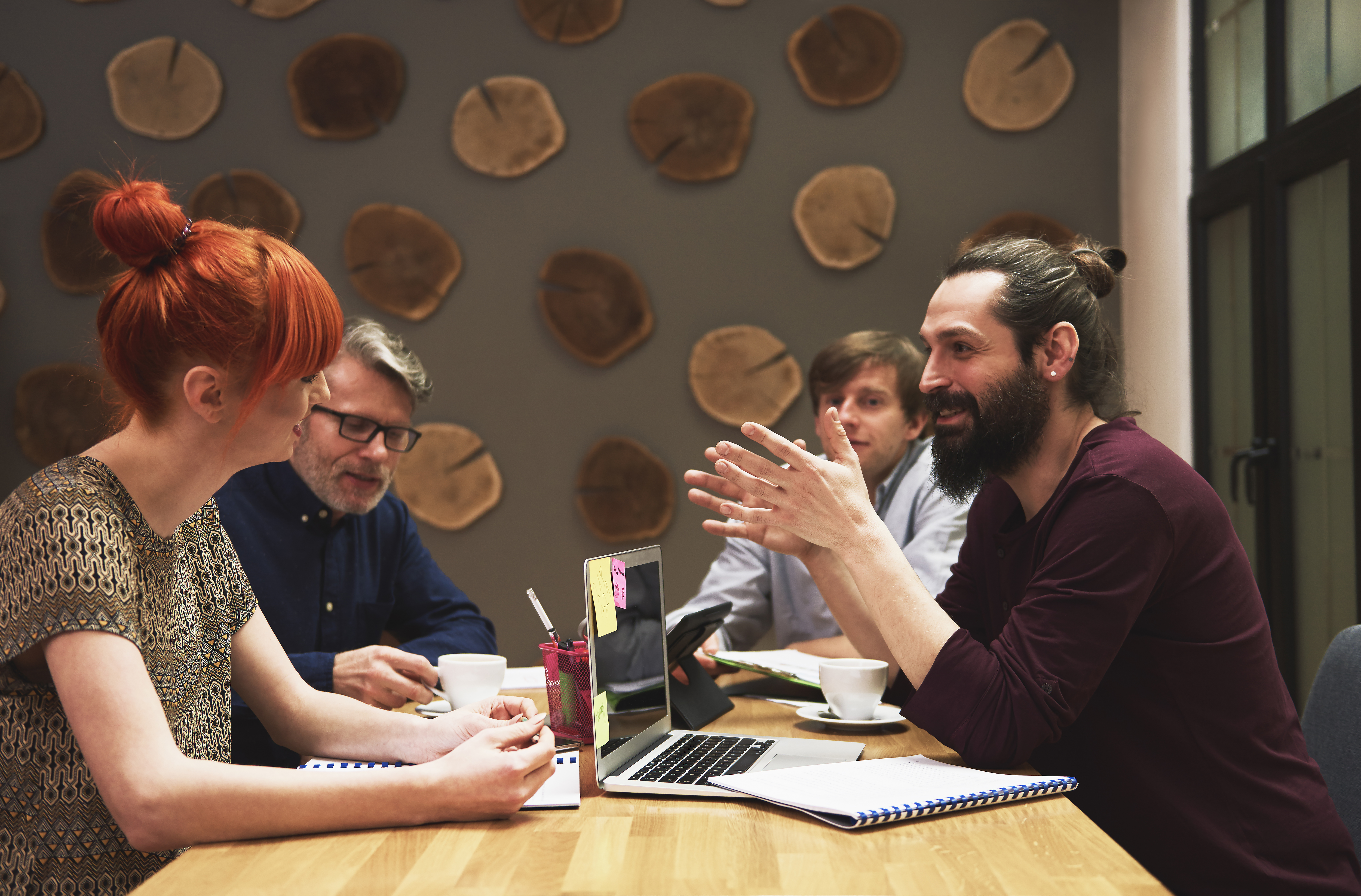 In order to find out whether Magento should be the go-to choice for your online business, you need to walk through with its pros & cons. Let's explore!
Magento Pros & Cons
Pros Of Magento e-commerce platform
Magento opensource is free to download and customize
It offers impressive features to set up an online store website
Being an open-source e-commerce platform, you can customize it as per your business needs.
In order to extend your store's functionality and to take it up to the new heights, you can take advantage of many powerful Magento add-ons.
In addition, you can style up your e-commerce website using stunning Magento themes.
Magento is highly scalable that can grow with your business.
Cons Of Magento e-commerce platform
Although it is free to download and highly customizable, you'll still require the help of Magento Developers to customize it according to the need of your business.
It is the best choice for mid-size to large businesses as it requires much time, money, and efforts to set up.
It doesn't offer technical support to Magento open-source.
In a nutshell, Magento can be a great solution for you if you're a well-established company in the market and can afford heavyweight solutions. And, if you're just a startup, you can consider other e-commerce solutions first.
Magento Integrations & Add-Ons
Magento developers can create new integrations and add-ons to extend the Magento store functionality. There are approx thousands of add-ons are available in the Magento Marketplace to perform functions like Accounting & Tax, Shipping & Fulfillment, Marketing & CRM, Customer Service, Analytics, Security, and more.
You can choose free and premium Magento extensions depending on your store requirements.
Note: I'll strongly recommend you to check the compatibility of Magento extensions before you finally buy it for your store.
Magento Themes and Designs
The default Magento theme offers only basic features. Whereas third-party Magento themes are the ready-made package of layouts for e-commerce stores that contains the files, graphics, modules, and rich documentation. They give your store a new look and feel. There are many third-parties that offer amazing themes and designs to enhance your store appearance. On the other hand, if you're a developer, you also design your Magento theme as well.
Customer Service & Technical Support
Magento doesn't offer support of live chat, email, or phone to the online merchants using Magento Open Source.
You can take help from forums of the active user community and through paid assistance.
The other resources you can take advantage of are:
User Guide
Knowledgebase Articles
Developer Documentation
Magento Blogs
Managing Products In Magento store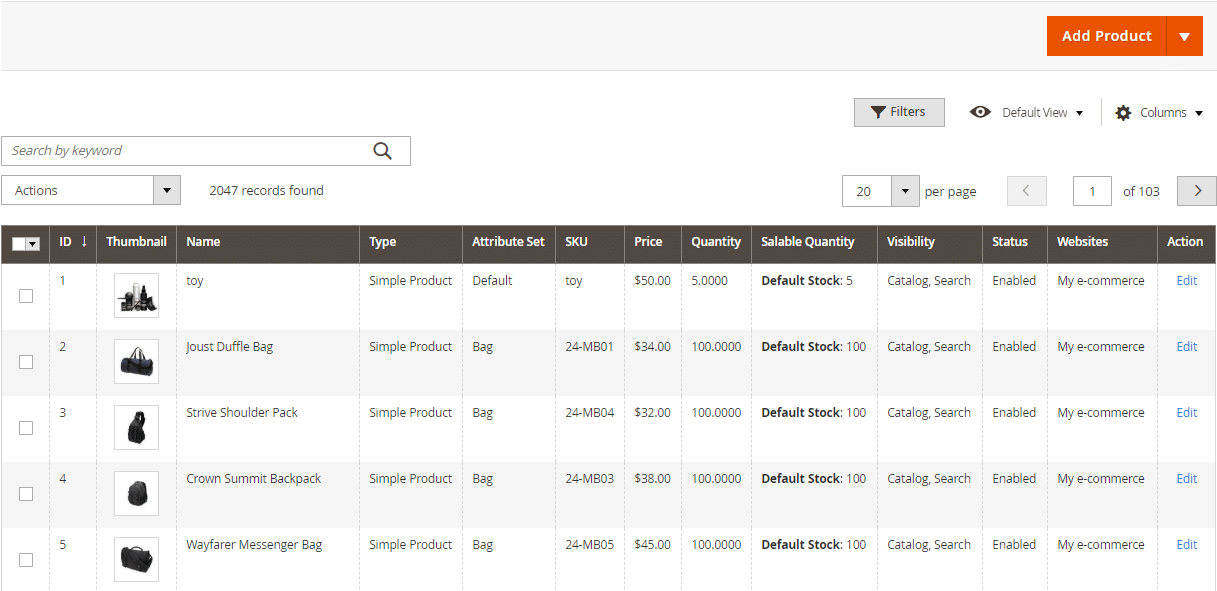 Talking about product management in the Magento 2 store, I must say it offers a user-friendly approach to work with. Its easy-to-use admin dashboard with well-organized sections make it easy to handle products on the store. Store administrators can add new products and edit existing ones in a more efficient way.
Final Words
Magento is, no doubt, an enterprise-level software. Its rich feature set along with the pool of Magento extensions and integrations make Magento website a reliable solution for business.
If you have a business that offers a large number of products along with tons of variants, creating an online store with Magento will be the smarty decision of yours. Although it requires a bit of technical knowledge, it brings a robust e-commerce solution that you've been ever looking for.
Share your opinions and doubts regarding the Magento e-commerce platform in the comment section below.
Stay tuned!