Want to promote your products to your customers in the most effective way? Try out these Magento 2 promotion extensions that help you boost your business sales and conversions in the best possible way.
Discounts, coupons, sales, and giveaways always attract customers' attention. It works effectively when it comes to changing consumer response at the time of purchase. Customers would like to purchase more items from the store where they get the best deals and offers.
You can also take advantage of this by running an attractive sales campaign in your Magento 2 e-commerce store. In this article, I'll discuss some of the best selling Magento 2 extensions that allow you to promote your products within your store in the best possible way and also helps in creating a brand image in the minds of the customers.
Magento 2 Promotion Extensions
So, let's take a look at some of the extensions that can help you promote deals and discounts on your e-commerce store.
1. Magento 2 Promotion Bar Extension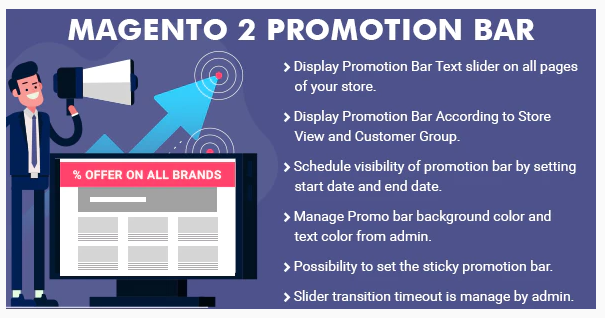 Promotion Bar extension is compatible with Magento 2. It allows you to create and manage promotion bars that ultimately helps in boosting sales for your business. You can use it to promote your website with header top notification.
Key Features Include:
Create and manage promotion bars
Set up promotional banners
Set start and end date automatically to display banners
2. Top Header Promotion Bar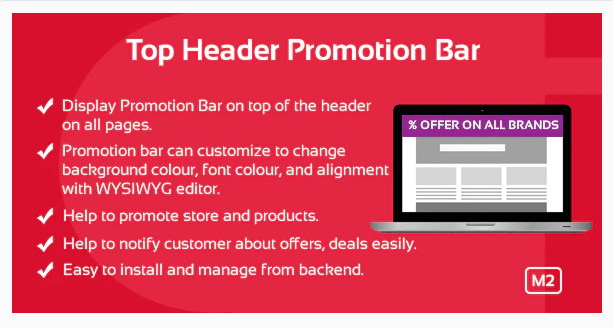 If you're looking for an extension that allows you to promote your deals on the top bar of your Magento store, this extension works best. This extension is compatible with Magento 2. You can attractively promote your deals, offers, discounts, etc on all pages of your site and it offers many customization options to create promotion bars.
Key Features Include:
Display Promotion Bar on the top of the header on all pages.
Customize the promotion bar as per your needs.
Notify customers about offers, deals.
Easy to install and manage.
3. Product Label Magento 2 Extension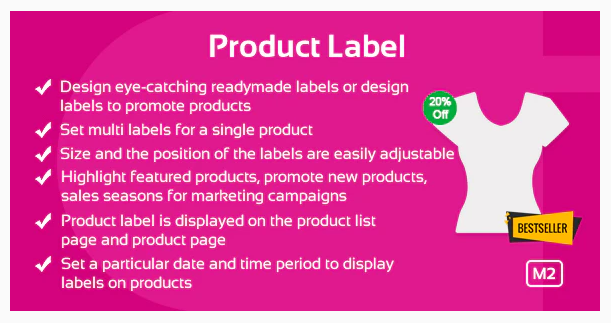 This extension enables you to place labels on product images. You can use it to display promotional labels like new arrivals, featured products, special offers, discounts, etc. You can easily grab the attention of your site visitors and customers and promote your sales campaign. You can even create multi-labels for a single product.
Key Features Include:
Use readymade labels or design new labels
Highlight featured products, promote new products, sales seasons
Set multi labels for a single product
Display labels on the product list page, product page, store view
Set start and end date to display labels on products
Use attractive label types
4. Multiline Discount Magento 2
Multi-Line Discount is another best extension for Magento 2 that allows displaying discount offers and promotions on a separate line. You can display all your discount offers separately at the time for checkout. You can also mention a discount in invoice and sent via email and credit note, to customers for order confirmation.
Key features include:
Display multiple discounts on a separate line.
Display discounts in Cart Page, Checkout Page, order confirmation and invoice mail.
Easy to install with any customized Magento 2 theme.
5. Powerbanners for Magento 2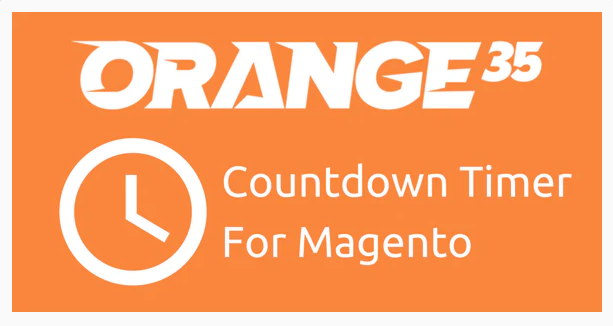 Powerbanners extension is another best extension that helps you promote your products in your Magento 2 e-commerce store. You can display attractive promo banners on many webpages. You can use any type of banner and place it anywhere on your site. It comes with a slider widget that allows sliding banners.
Key features include:
Add as many sliders as you need
Responsive layouts
Touch devices support, swipe to scroll
Slider widget
Multiple sliders on the same page
Over 600 Google fonts
Multi-store supported
Unencrypted source code of the extension
Easy to install and configure
6. SM Countdown Product Slider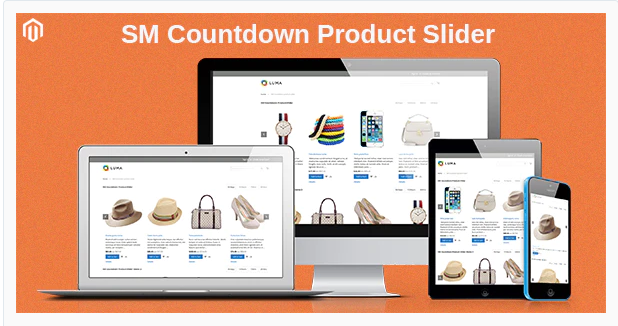 Use this extension if you want to display all on-sale products on your store with a slider. It offers many various sliding options that you can use to promote your products online. Sliding options include slide effect, auto play, navigation, navigation speed, mouse drag, touch drag, etc.
Key features include:
Set column number for each screen resolution
Display all products from on-sale categories
Set countdown timer with the format: yy/mm/dd
Display products by: Name/ Id/ Created Date/ Price/Latest Product/ Top Rating/Most Reviews/ Most viewed/ Most selling/Random
Show or hide Featured Products
Set auto-play or stop when being hovered
And, many more!
Ready To Promote Your Products Online?
Hope you got the best extension that helps you run and manage sales campaign on your Magento e-commerce store efficiently. Any extension that we're missing here in this list? Do share your opinions with us in the comments section below.
Some Interesting Reads That You Would Like To Take a Look At:
Stay tuned for more interesting reads!