Help your customers contact you easily to resolve their queries or doubts using the best Magento 2 live chat extensions.
Your customers may have many doubts in his mind before buying a product from your online store. For example, whether the delivery is refundable or not, whether you offer after-sale services or not, what if there is a default in the product they purchased from your store. And, so on…
If they didn't find satisfactory answers for all their queries, they won't make purchases from your store and will leave your site. So, make sure they're able to find a quick way to communicate with you. And, that's where the importance of Live Chat Extensions for Magento 2 comes.
In this article, we'll describe the importance of offering live chat support to your customers and the best in-demand extensions for Live Chat that you can use on your Magento e-commerce store.
Why Should You Offer Live Chat Support To Your Customers?
Offering live chat support to customers can help you in your business in many ways. Let's discuss them:
→ Increase In Business Sales: Live Chat Support makes it easy to communicate with your customers and helping them by providing satisfactory answers to all their queries. This way, you'll be able to generate leads for your business and making sales.
→ Discover Customer Pain Points: A pain point is a problem of your customers that needs to be addressed timely. If not, you might lose them over your competitors. Through live chat support, you can access all chat histories to quickly learn customer pain points and provide the required solutions.
→ Customer Convenience: How easy is it for your customers to ask you for customer service? This is a major concern that you must think about it. Live chat offers the ability to customers that they can access to salespeople and the support staff instantly.
→ Competitive Advantages: A friendly instant customer support brings a lot of competitive advantage that every business wants. You can proactively engage your website visitors and close sales with them.
→ Reduce cart abandonment: By providing your customers with the right chat message, you can prevent website visitors from abandoning carts on your e-commerce store and close the deal you were about to lose.
Best Magento 2 Live Chat Extensions
Let's check out one by one the best Magento 2 Live Chat Extensions that you can use on your e-commerce store to offer live chat support to your customers:
1. WhatsApp Chat Extension by Wbcom Designs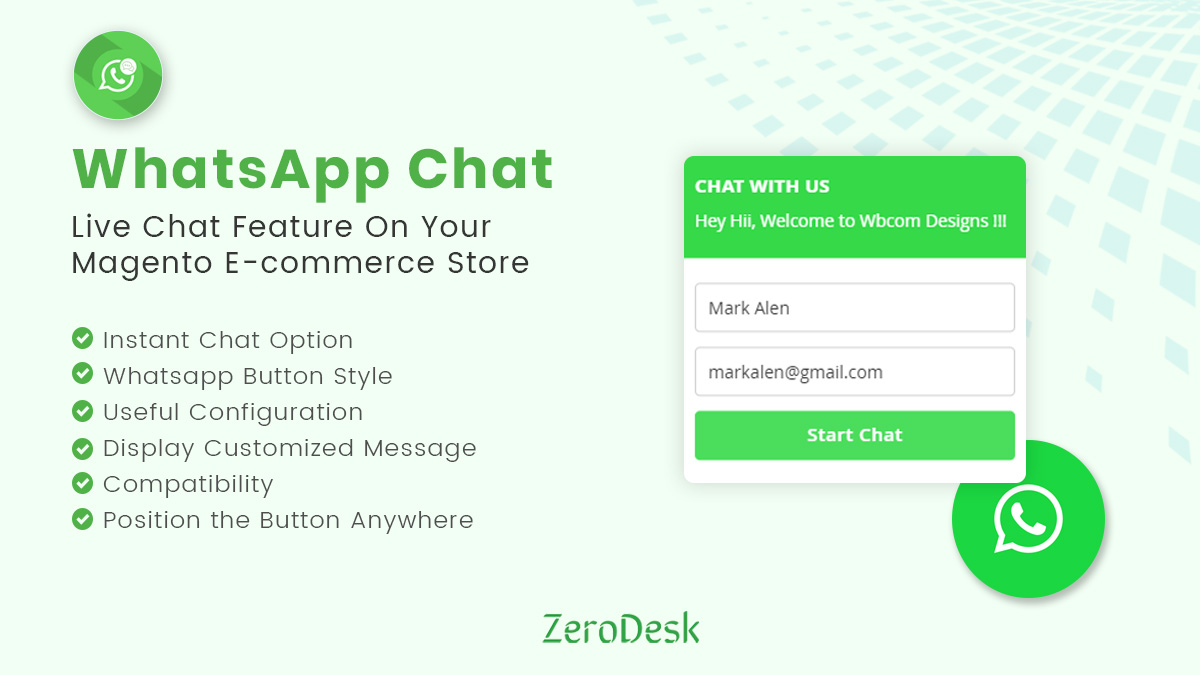 WhatsApp is the most trending application that everyone is using to communicate with others. You can use this application to connect with your customers. Integrating WhatsApp Chat extension with your store, you can allow your customers to instantly contact you on a given mobile number. And, this way, you can generate leads and increase sales for your business.
Noteworthy Features
Instant Chat Option Through Given Mobile Number
Customize The Whatsapp Contact Button Layout.
Compatible With All Magento Themes.
Compatible With Whatsapp Web, App & Whatsapp For Business.
Configure Whatsapp Button Style
Enable/Disable Chat For Mobile View
2. WhatsApp Contact
This is another extension that integrates WhatsApp application with Magento 2 store. And, this way your site visitors can contact you quickly to ask their queries. It works well for all mobile devices who have installed WhatsApp. Apart from that, they can also chat with you on their desktop using WhasApp web.
Noteworthy Features
Easy to enable/disable
Enable For for Mobile, Desktop or Both
Multiple Button Positions
Default Phone Number & Push Message
Compatible With All Magento 2 Versions
3. Facebook Messenger Live Support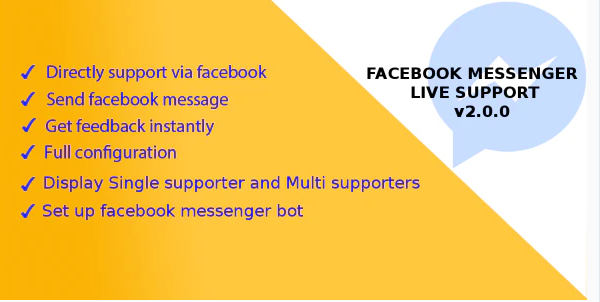 Just like WhatsApp, Facebook is also another biggest social network platform used by majority of people. And, you can use this platform to offer support to your customers. Facebook Messenger Live Support extension allows your customers to send message to store owner to get support, ask some information, and more. And, store owners can quickly respond to them.
Noteworthy Features
Directly Support Via Facebook
Send Facebook Message
Get Feedback Instantly
Full Configuration
Display Single & Multi Supporters
Setup Facebook Messenger Bot
4. Pure Live Chat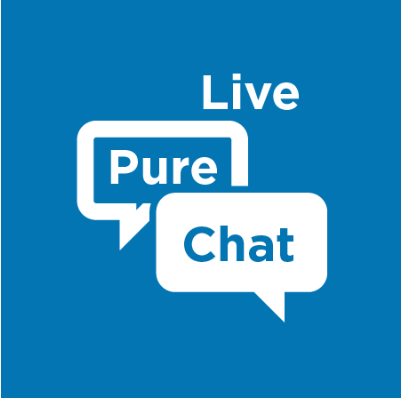 Pure Live Chat extensions offered by BELVG is another useful extension that can help you to increase the loyalty level of your clients. Using this, you can quickly configure Live Chat Window on your Mageno store. It comes with a handy dashboard to the work process fast and easy.
Noteworthy Features
Compatible with Magento 2
Customizable Chat Window
Get Information About Your Customers
Multi-chat support
Engage chat with your site visitors;
View Conversation Stats & Transcripts In Chat History
5. Live Chat By HappyFox

Another best extension that you can use in your Magento 2 store is HappyFox Live Chat extension. You can quickly find out what your customer needs, solve their issues, and offer better recommendations and support to them. Let's take a look at some of its noteworthy features.
Noteworthy Features
Get Important Data About Your Customers
Multi-Chat Support
Personalize Online Shopping
Native Live Chat Applications
Easy-to-use
What's Your Favourite One?
Hope you got the fact that how important it is to provide quick customer support to your site visitors and found the best extension to offer customer support to them. Let us know what's your choice.
Apart from these Live Chat extensions, you can also take help from FAQ extensions that can help you resolve all customers doubts by answering their general questions beforehand.
Check out this interesting read:
Benefits of Learning Digital Marketing
Stay tuned to get more interesting reads!