Looking for the best e-commerce website builders to create an online store for your business? When it comes to selling services online, there are lots of options available in the online market. But, it's a little bit confusing of which e-commerce platform should you opt to set-up your e-commerce business successfully. You might end up thinking of which e-commerce website builder can serve you the best in terms of cost-advantage and web designing aspects. Whatever is the matter, the ultimate goal is to make your potential customers happy while browsing and shopping products from your online store.
Hence, choosing the best e-commerce platform requires a careful and in-depth analysis of all aspects.
Why Should You Choose E-commerce Website Builder?
Are you a business owner who would like to create an online store from scratch but don't have any coding experience?
Are you the one who is looking for ways to set up online stores without putting much effort or time?
Are you the one who would like to explore more easy and better options to build an e-commerce website other than designing it from scratch?
Considering the use of the best e-commerce website builder is a smart option for you!
20 Best E-commerce Platforms
There are many eCommerce website builders in the market. But, which one is the best for your e-commerce business? The answer to this question is totally depends on the specific requirements of your website. I've reviewed 20 best e-commerce website builders that will surely help you make the final decision.
So, here are our top picks for the best e-commerce platforms. Explore these and get the best one for your business.
1. Magento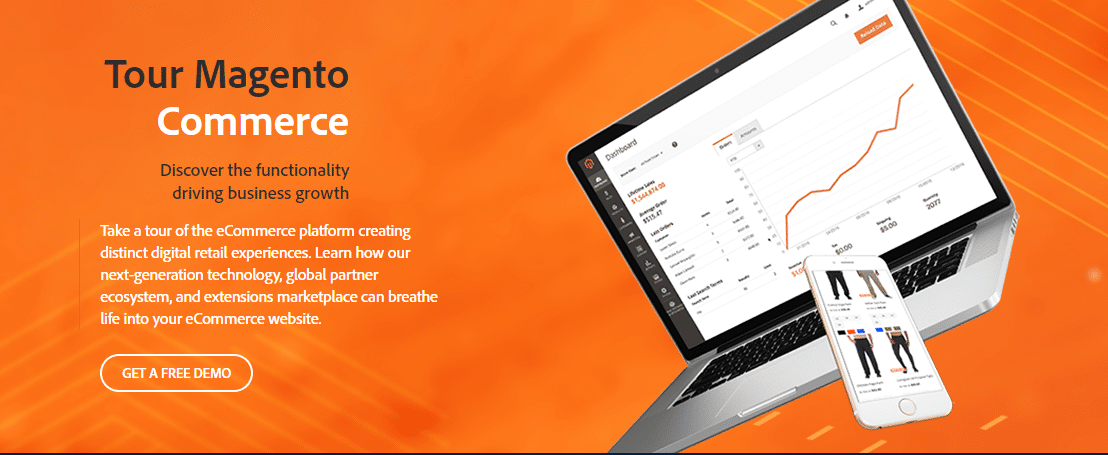 The number #1 pick that I would like to put in the list of best eCommerce website builders is Magento. It's an e-commerce content management system that allows creating an online store with useful and powerful e-commerce and shop-security features. It comes with tools and community support to make your commerce site stand out.
And, here is a quick Review Of Magento E-commerce Platform that can help you explore this platform in the best possible way.
What's Included?
Right eCommerce products for B2B, B2C or B2C business
Magento Order Management
Business Intelligence to transform your data into value
Magento Open Source for Developers and Small Businesses
Adobe Commerce Cloud to create engaging shoppable experiences
Amazon Sales Channel to sell & distribute on the world's largest marketplace from Magento
Google Shopping ads Channel to power up your marketing efforts
And, a lot more functionalities to explore!
2. BigCommerce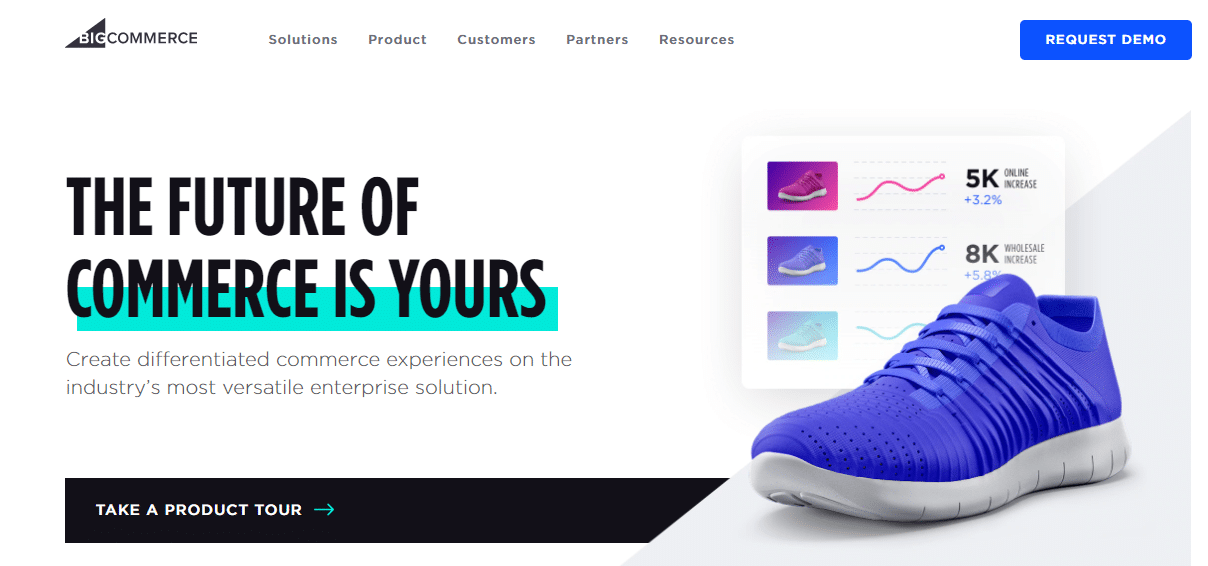 Finding the most versatile enterprise solution? Take a look at BigCommerce that allows creating differentiated e-commerce experience. It's a highly-extensible SaaS solution that takes proper care of the security & scalability of your online store.
What's Included?
Storefront Design Includes:
Theme Customization
Checkout Customization
Mobile Optimization
Preview Before Publishing
WordPress Integration
Storefront Conversion Features Includes:
Create 70+ native discount and promotions
Built-in Google Cloud Platform infrastructure, Google AMP and Akamai Image Manager
Customize Merchandising options
Digital Wallets
Customizable SEO-friendly URLS, Metadata, and robots.txt editing
Faceted Search
Cross-channel Commerce Includes:
Marketplaces
Social Commerce
Native POS systems, including Springboard Retail & more
Multi-Storefront
And, a lot more functionalities to explore!
3. Shopify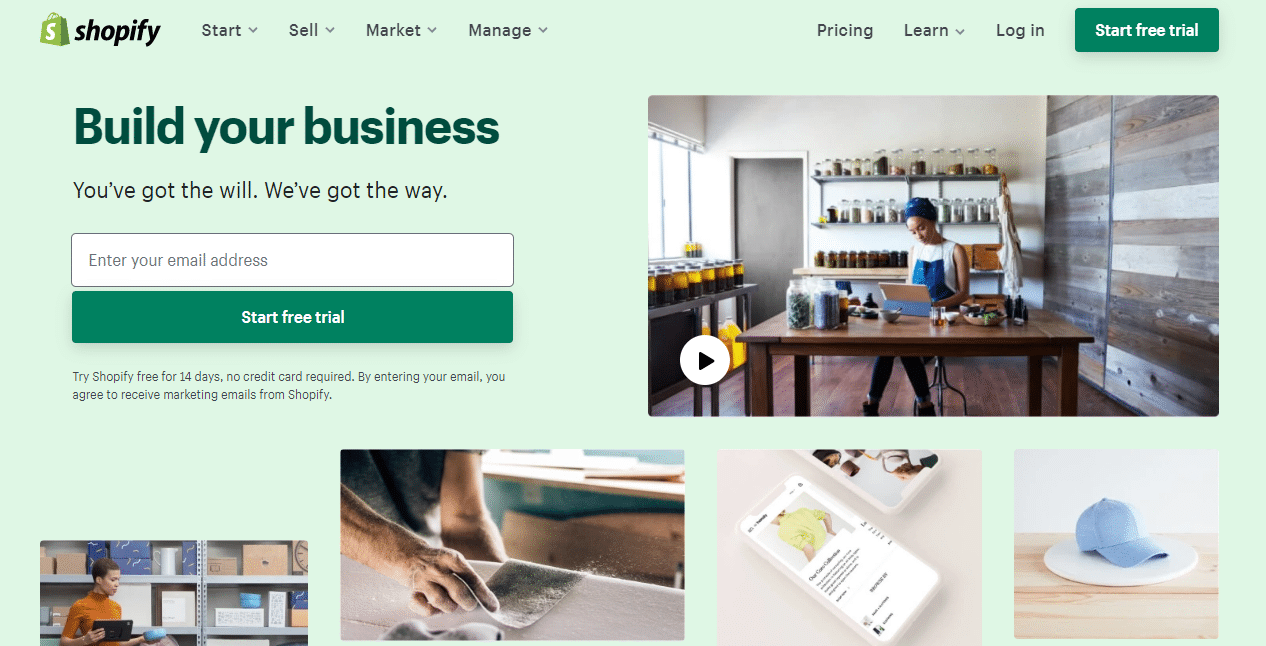 And, here comes Shopify! the best e-commerce website builder to create and manage online stores like a pro. It comes with amazing storefront, shopping cart, store management, marketing, search engine optimization, product management, web hosting, analytics, mobile app, and community support features. Leverage this platform to get started with your e-commerce website fast.
What's Included?
70+ professional themes
HTML & CSS Editing
Web-based website builder
Get Your Domain Name
Full blogging platform
Free SSL certificate
Automatic carrier shipping rates
Abandoned checkout recovery
100 payment gateways
Easy customer profiles management
Google Adwords credits
Generated sitemap.xml
And, a lot more functionalities to explore!
4. Shopify Plus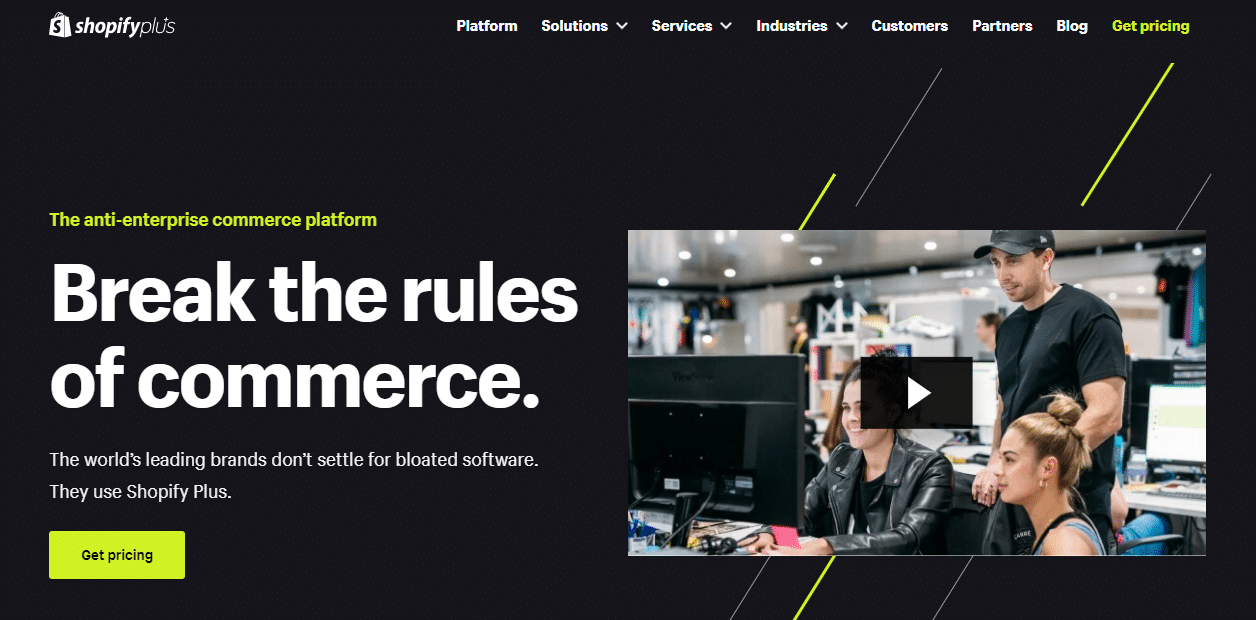 Another, fast and customizable e-commerce platform is Shopify Plus. It offers brilliant solutoions for online stores, international commerce, multi-channel commerce, e-commerce automation, headless commerce, campaign & flash sales, retail & point of sales, wholesale, and B2B commerce.
What's Included?
Augmented and virtual reality support
Unified back office for multi-channel selling
Localized customer experiences with global storefronts
Unlimited extensibility, integrations, and customization through Shopify apps and partners
Accelerated and customizable checkout
Custom automation with apps like Shopify Flow, Launchpad, and Scripts
Product Management & Search Engine Optimization Options
API integrations to extend the platform with flexible technology
Analytics and reporting
And, a lot more functionalities to explore!
5. Commerce Cloud

Commerce Cloud is a useful e-commerce platform that has been designed to power-up your online business and build customer relationships. It offers solutions for all business types, needs, and industry. And, for any help regarding your online store management, you can take help from its supportive community, its knowledge base, and Learning & Tutorials.
What's Included?
Personalize eCommerce with AI
Mobile Commerce Support
Commerce + CRM
Headless Commerce
Easy migration
Easy Order Management
Leverage social extensions
B2C ecommerce developer tools
Manage multiple digital commerce sites
And, a lot more functionalities to explore!
6. 3dcart
Create an online store with 3dcart and grow your business online. It's a leading, powerful, and secured e-commerce software for SEO. It is based on the latest SEO standards and marketing eCommerce tools that offer tons of functionalities to build and manage your online store and increase conversion rates.
What's Included?
200+ built-in features
50 free themes
SEO-ready online store
100+ supported payment processors
Centralized inventory management
Dedicated US-based eCommerce support team
And, a lot more functionalities to explore!
7. WooCommerce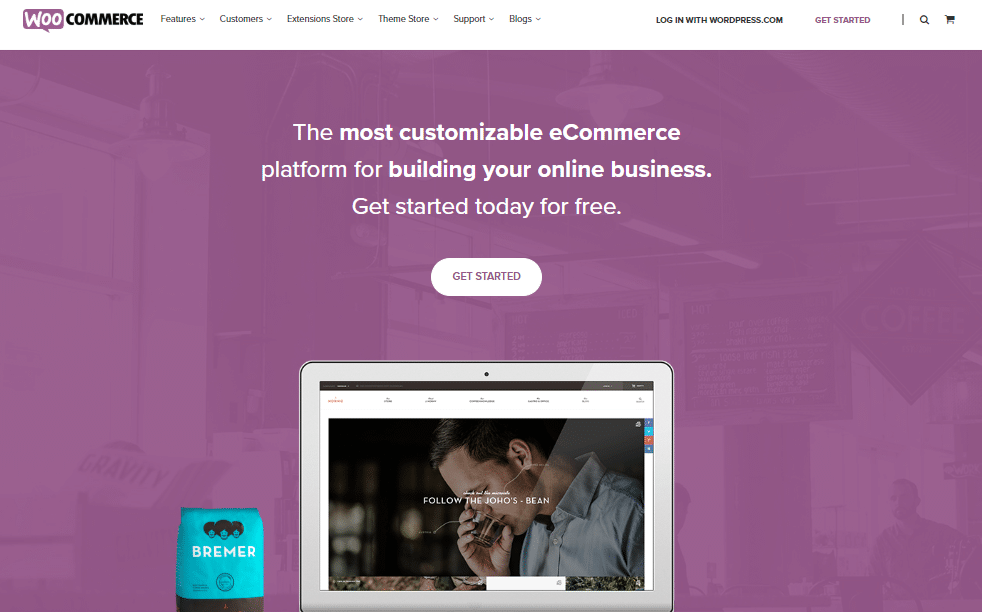 WooCommerce is an open-source platform that offers the best e-commerce functionalities to integrate with your WordPress website. You can create and manage your online store easily. It's the most customizable eCommerce platform to grow your online business. Its basic version is free that offers many useful features to create and manage WordPress online stores. however, you can also take advantage of its various premium WooCommerce addons to integrate advanced e-commerce functionalities and offer a better shopping experience to customers.
What's Included?
Sell anything from physical products to digital downloads and appointments
Custom AJAX endpoints or webhooks
REST API to manage everything from products to orders
More than 400 official extensions
Countless WooCommerce themes
Unrestricted customization
Built-in blogging
Embed products, checkout and more on any page
And, a lot more functionalities to explore!
8. Volusion
Now, explore Volusion- another best e-commerce website builder. it comes with superb functionalities that help you create unique online stores in minutes without any need to learn coding language. Inventory management, Payment collection, Unlimited product options make it easy to launch e-commerce websites fast without compromising with customer shopping and user-friendly experiences.
What's Included?
Integration with powerful apps
Built-in SEO tools, discount manager & access to Google Analytics
Customizable Store Editor & Product Pages
Fast, Reliable & Secure Payment Gateway Integration
Easy Order Management
And, a lot more functionalities to explore!
9. Prestashop
PrestaShop is also a smart choice to create e-commerce stores with useful functionalities. It offers easy customization options for every user's needs. Even you can also take a quick demo of Prestashop to make yourself acquainted with its user-friendly interface.
What's Included?
Create and sell digital products
Create products with variants
Useful product navigation options
Inventory tracking options
Create suppliers & manufacturers
Easy store customization
Create Special Offers
Highlight your Products
Advertise in your store
Create templates of emails & send default emails
And, a lot more functionalities to explore!
10. Weebly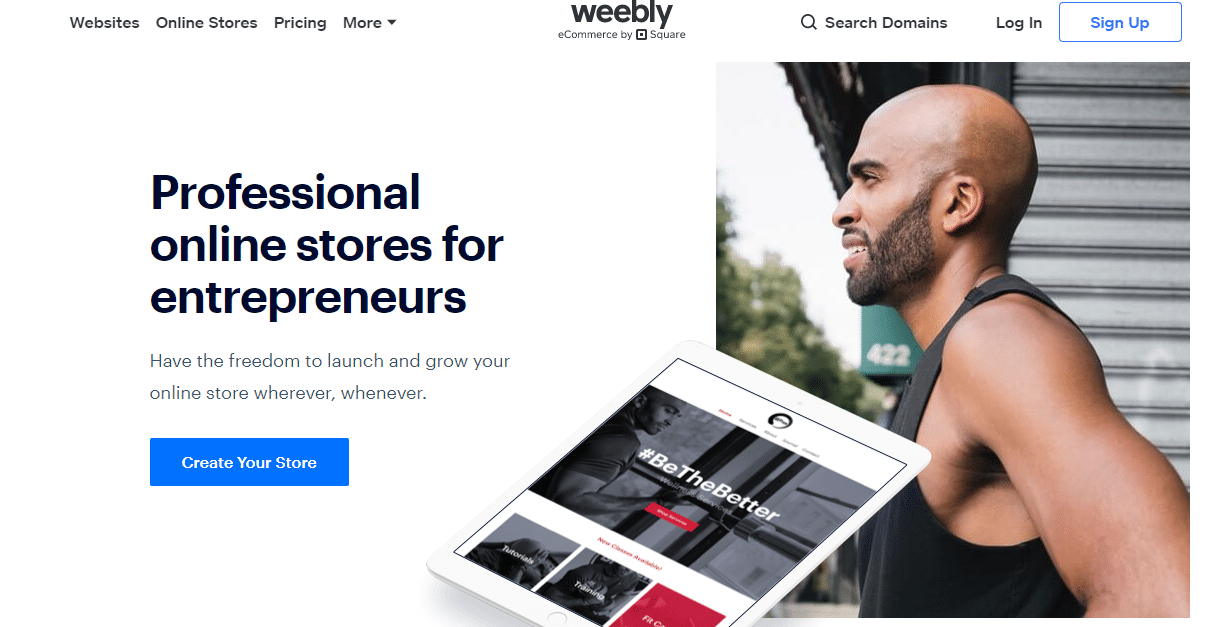 Want to get started with your e-commerce website for free? Try Weebly! It offers customizable webpage designs and useful tools to create a website for business. And, if you found it worth for your business, you can upgrade your plan to extend your website functionalities.
What's Included?
Powerful drag & drop tools
Build, edit & manage your website from your Mobile
Advanced design features
Professionally designed templates
Third-party integrations
Custom Domain Name
Powerful SEO Tools
Reliable & free hosting
And, a lot more functionalities to explore!
11. Squarespace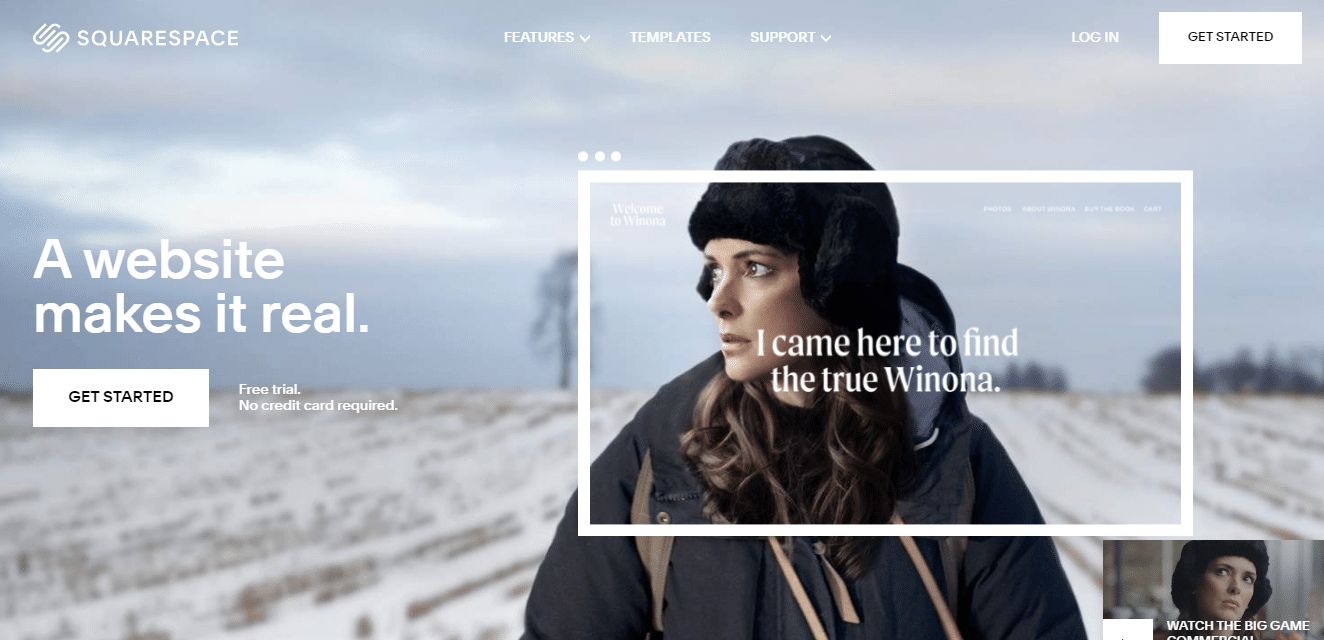 Photographers, Restaurants, Musicians, Small Businesses, Fashion Designers, Artists, or whatever is your profession, Squarespace offers the best platform to setup your website. It gives you everything to run your online store.
What's Included?
Award-winning templates
Built-in Marketing, Social Media Tools and SEO Tools
Useful Blogging Tools
Manage your website on Mobile
Check Analytics From Anywhere
Rich product display, including videos and image zoom
Automatic inventory management
Sell unlimited products
Powerful shipping calculator features
And, a lot more functionalities to explore!
12. Wix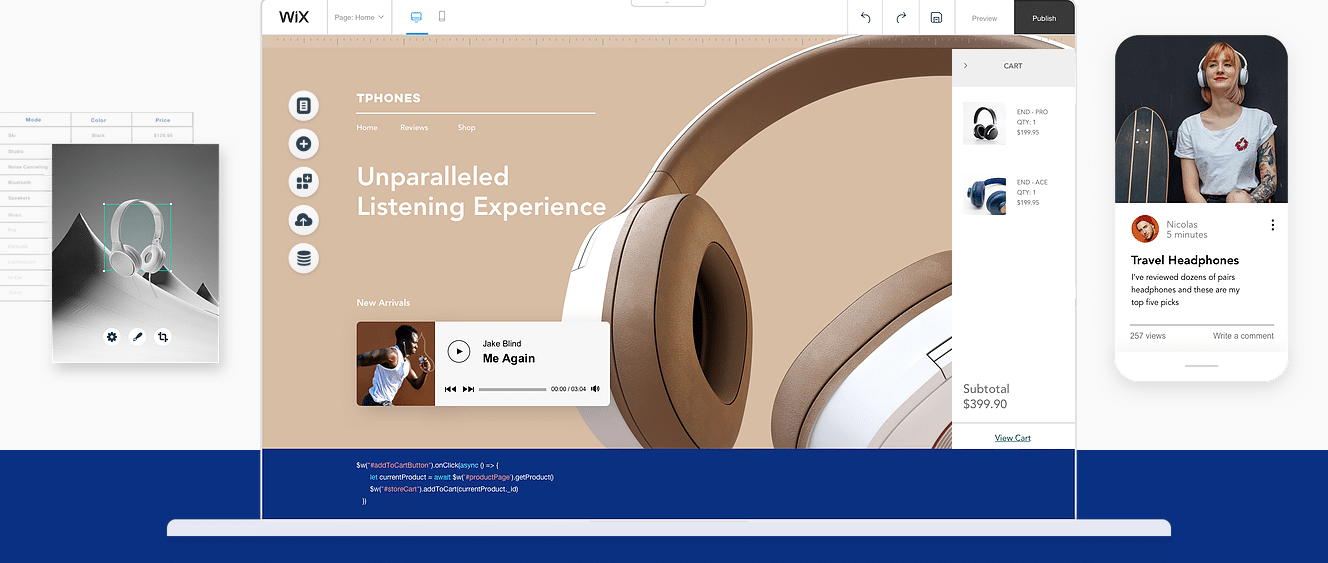 Wix is also a great website builder that allows designing, creating, and managing high-quality websites. No matter what your purpose is, it offers everything to promote your business, showcase your work, opening your store or starting a blog.
What's Included?
500 designer-made templates
Drag & Drop feature
Industry-Leading SEO
Mobile-Optimized
Powerful web apps
Animation, video backgrounds & scroll effects
Unlimited Fonts
Beautiful gallery layout
Custom Domain Name
Professional Mailbox & Free Hosting
And, a lot more functionalities to explore!
13. SiteBuilder
SiteBuilder is another option to choose among the best website builders. Whether you want to create an e-commerce store or just want to set up a blogging website, it offers solution for all your requirements and assists you in creating an online presence for your brand.
What's Included?
Intelligent Website Builder
Customizable Layouts
Free Domain Name
Business Email Address
Free Hosting
Phone Support
Built-in design protections
Customizable Layouts
And, a lot more functionalities to explore!
14. OpenCart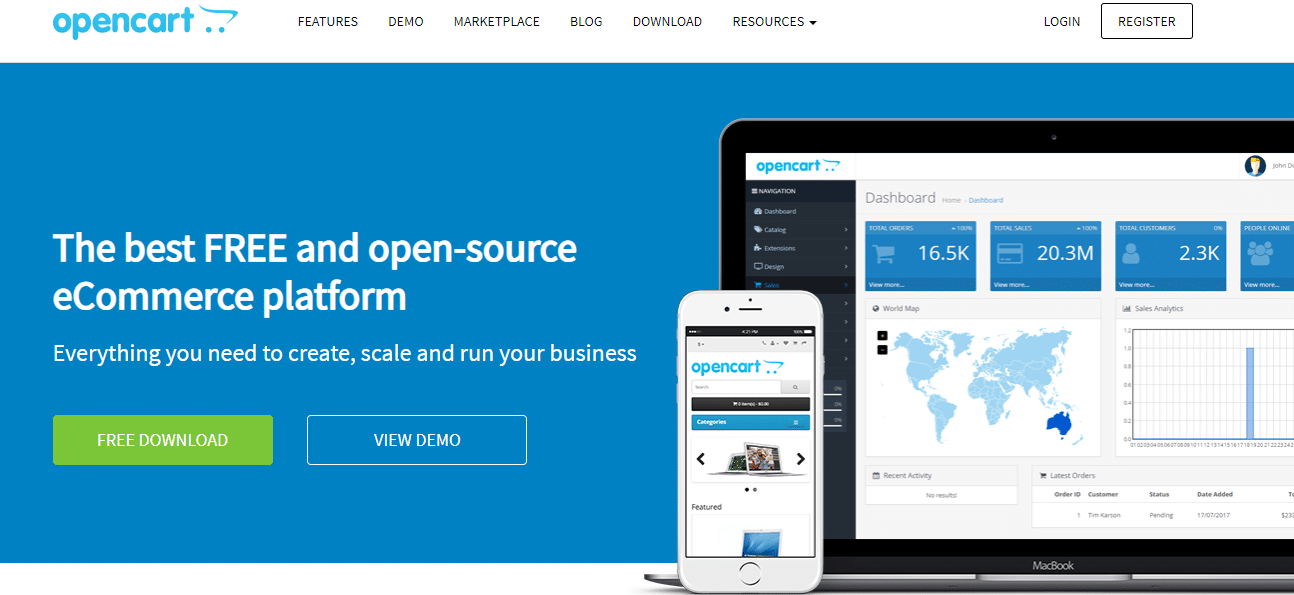 Looking for the best FREE and open-source eCommerce platform? Try OpenCart. It offers a lot of options to create, scale, and run your online business. It comes with free downloads and updates and offers free community or dedicated commercial support.
What's Included?
Powerful Store Management
Built-in SEO
Useful Extensions and Themes
Payment gateways & shipping methods
Useful Administrator Dashboard & User Management options
Manage multiple stores from one admin interface
And, a lot more functionalities to explore!
15. ZenCart
Zen Cart is a PHP based e-commerce shopping cart system that allows easy-to-setup an online store. It is a completely customizable e-commerce. You can run it from your own webserver.
What's Included?
Easy installation & customizable
Multiple customer modes
Unlimited category depth & extra pages
Multiple sales and discounts
Multiple payment & shipping options
Discount coupons & gift certificates
Multiple language
And, a lot more functionalities to explore!
16. Big Cartel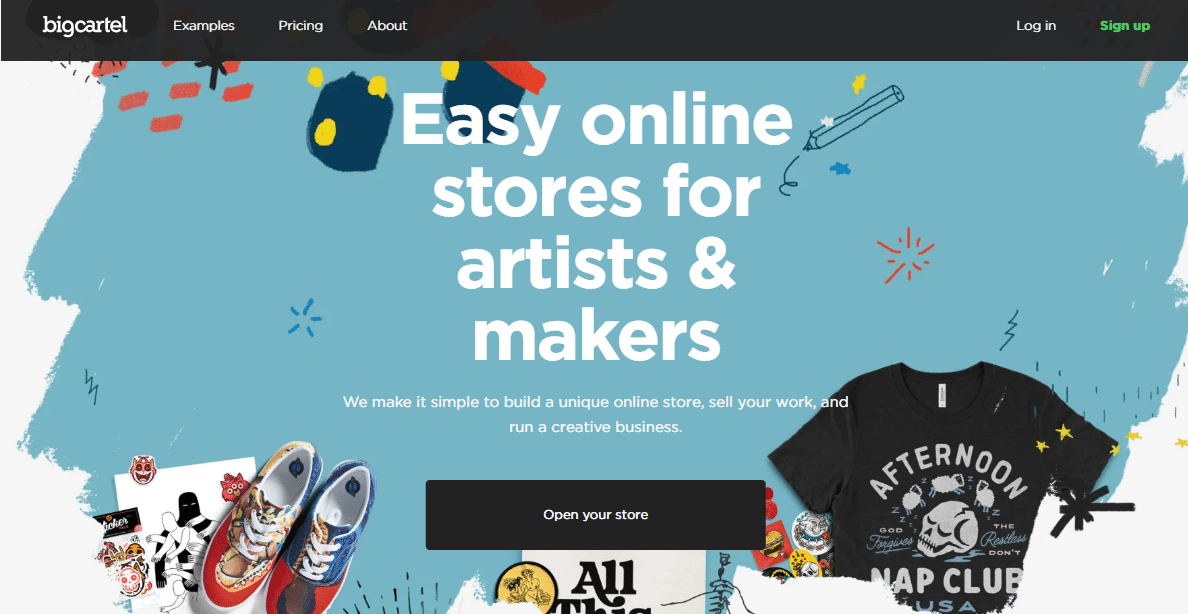 Big Cartel makes it easy to create an online store for makers and artists. You can use it to easily sell your creativity. It offers awesome and powerful tools to manage your store, fulfill orders, check stats, update products, and run promotions.
What's Included?
Customizable themes
Sell online and in-person
Real-time stats
Use a custom domain
Theme code editing
Google Analytics
Inventory Tracking
Offer discounts and run promotions
And, a lot more functionalities to explore!
17. Ecwid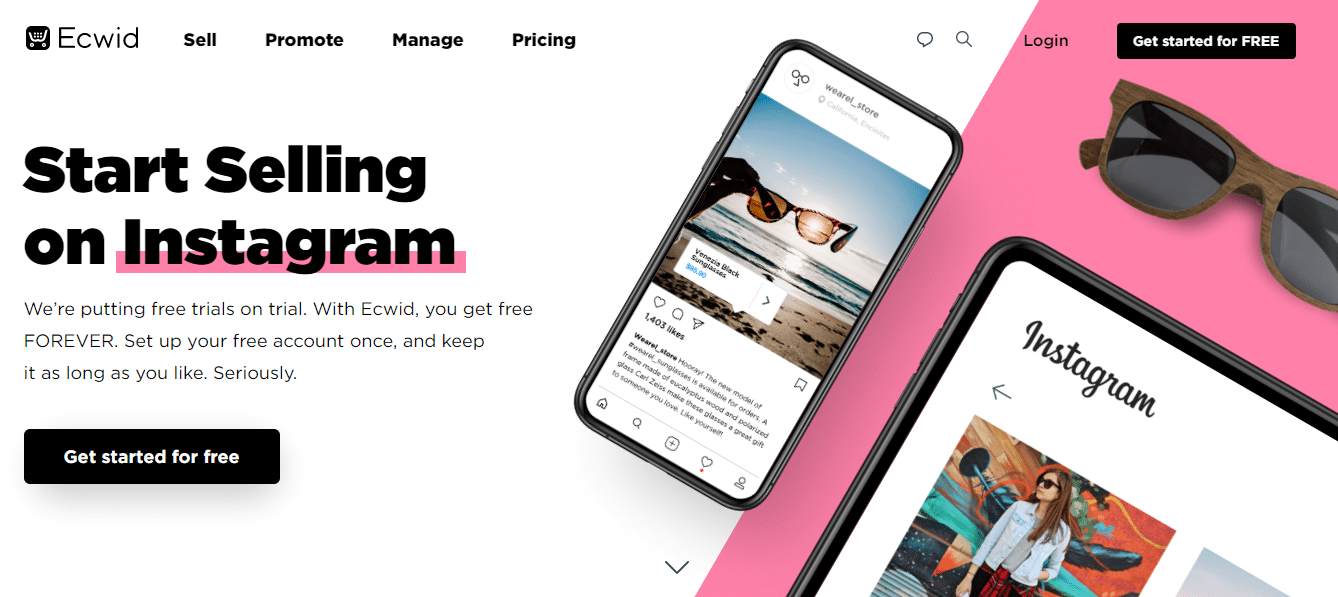 Ecwid offers setting up your online store for free to sell your products online. And, to further extend your store, you can choose from its various plan options like venture, business or unlimited. With Ecwid, it is easy to manage and create an online store with all the required functionalities. Let's check out what it offers to businesses:
What's Included?
Easy-to-use marketing tools
Centralized inventory
Easy Order Management
Powerful Ecwid App Store
Ecwid Mobile App to manage business on the go
And, a lot more functionalities to explore!
18. Zoho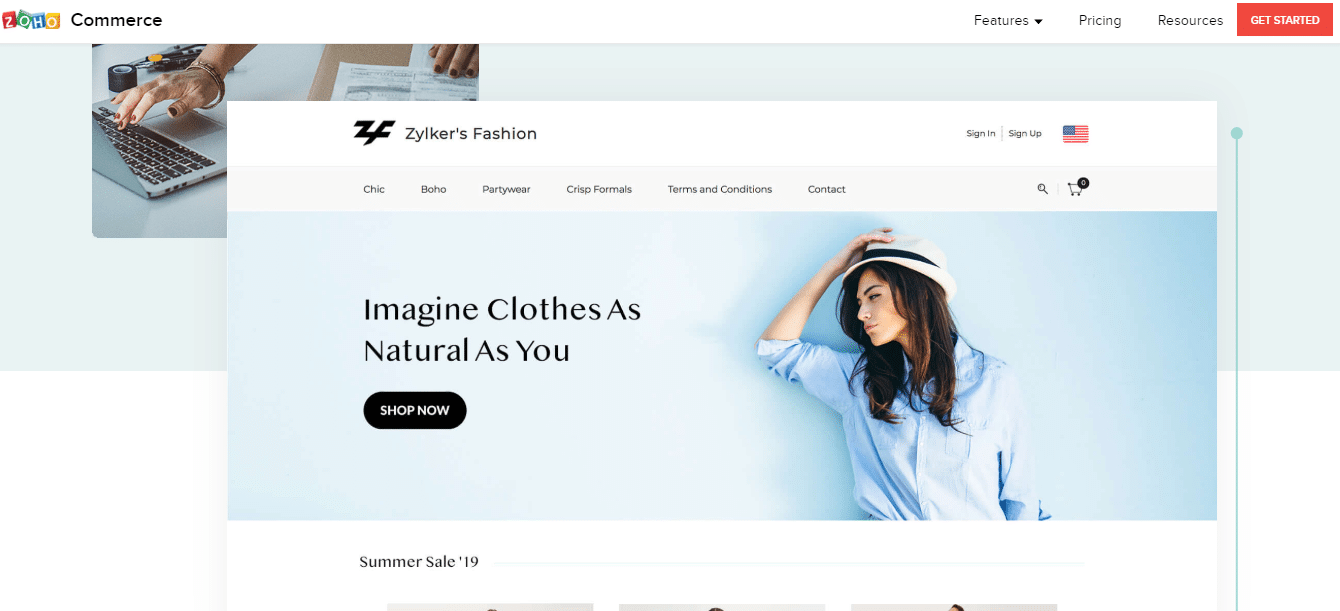 Zoho is all-in-one e-commerce platform that allows managing your entire web store. It offers many tools to design and create an e-commerce website, accept orders, process payments, manage shipping, marketing, and analyzing your business data.
What's Included?
Pre-built SEO-friendly templates
Product Catalog Management
Orders and Payments Management
Inventory and Shipping Management
Marketing and Support
Reporting & Analytics
And, a lot more functionalities to explore!
19. JumpSeller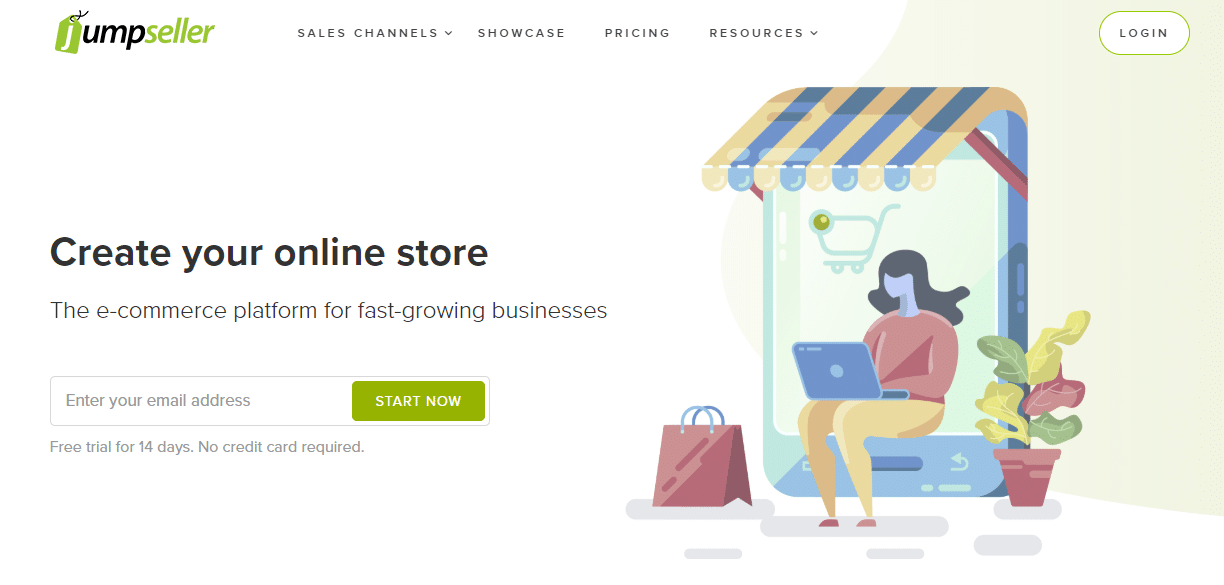 Now take a look at JumpSeller. It is also the best online store builder that allows creating an online store with easy to use store and product management features. It gives you full control over designing aspects to help you customize the store the way you want.
What's Included?
Mobile-ready & customizable themes
Custom Domain
Multi-language & currency support
Easy Order Management
Social Media Integration
Different shipping and taxes options
Sell Digital Products
And, a lot more functionalities to explore!
21. PinnacleCart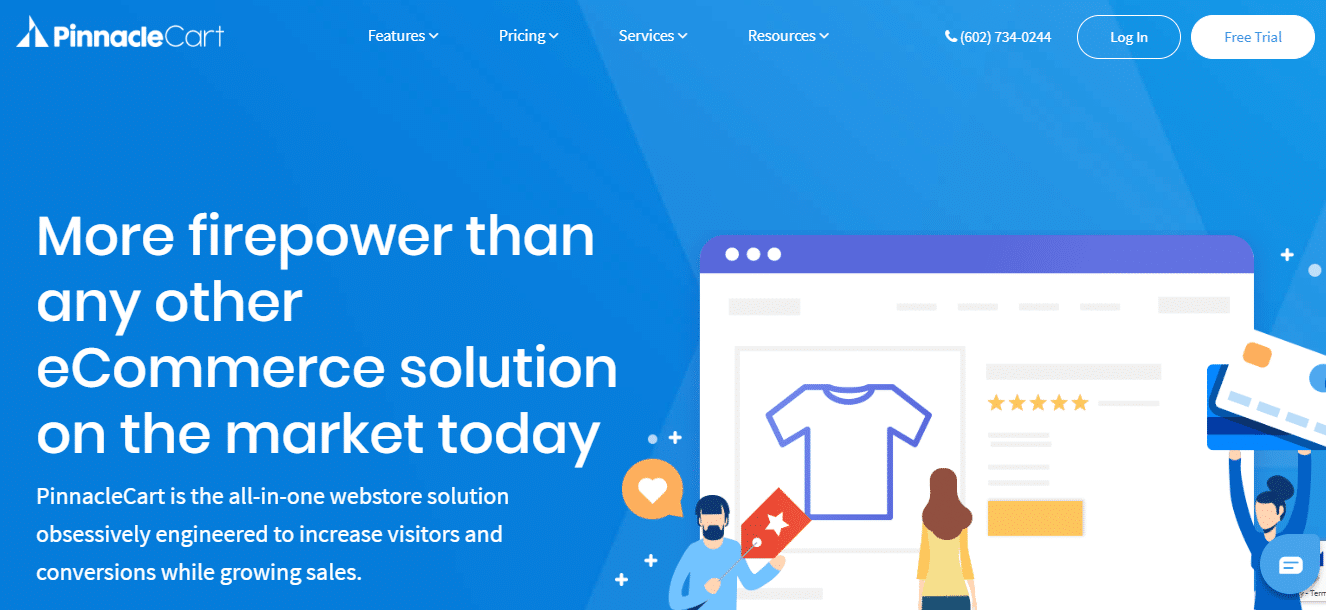 It's another best e-commerce platform that helps businesses to increase visitors and conversions. It offers a unified storefront for all major devices. It provides a 100% Complete Solution to create e-commerce stores with superb store functionalities. Try it now and explore its amazing options.
What's Included?
Beautifully designed, conversion-focused templates
Features Designed for Growth
Completely Customizable
Cutting-edge marketing tools
Advanced Store Management
Full suite of integrated SEO tools
Dynamic product listings
And, a lot more functionalities to explore!
So, What's Your Favorite E-commerce Website Builder?
Among all the e-commerce website builders, if you've chosen to go with Magento, I would like you to pay attention to these best Magento extensions. These extensions are meant to help you extend your Magento e-commerce store capabilities in the best possible way. And, these Magento Hosting Services can help you host your e-commerce business online.
Hope you got your best e-commerce platform. Start selling your products and services today and increase your business sales. Create your online store today.
Stay tuned and we'll get back with more useful information!